Argento's 'Evensong' honored National Cathedral, but more important, it eased his grief
By Rob Hubbard
Updated: 09/24/2009 04:55:23 PM CDT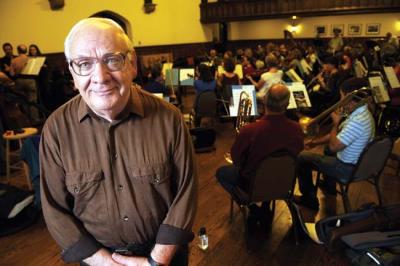 Dominick Argento sits in on a rehearsal of his "Evensong: Of Love and Angels." (Pioneer Press: Scott Takushi)
Bethesda.
The word greeted composer Dominick Argento every day as he entered the hospital. It loomed from above the door as he went to visit his wife, reminding him of the biblical tale of the fountain of Bethesda, in which it was said that an angel would trouble the waters and the first to step into the fountain afterward would be healed.
Such miracles were on Argento's mind because his wife, Carolyn Bailey Argento, had been suffering through a long, painful illness. For more than 50 years, the soprano had been the muse and partner of one of America's most prominent composers, best known for operas and song cycles that have won the Pulitzer Prize and a Grammy. They shared a life at the center of the Twin Cities' growth as an artistic capital.
Now, Argento felt his composing career was over. Until, on one visit to the intensive care unit at Minneapolis' Bethesda Rehabilitation Hospital, his wife helped change his mind.
"I told her that the National Cathedral of Washington wanted to commission me to write a work for its 100th anniversary," Argento said last week from his home in Minneapolis. "I wasn't interested in writing anything, least of all a nice big religious celebratory piece for the cathedral's 100th anniversary. But my wife said, 'Well, I wish you would do it.'
"Her father was a Methodist minister in Baltimore. She recalled being taken to the National Cathedral as a young girl and said that it was a day she never forgot. So she was thrilled to hear that they had picked me to write a 100th anniversary piece. She said, 'Please write it.' I said, 'I don't feel like writing that kind of a piece.' And we sort of ended the argument.
"Then, one day, I came in and said, 'Listen, I've been thinking about it. When you get better, when you get home, I'll start working on the piece, if there's still time.' And that was our agreement. But she never got better."
After Carolyn Bailey Argento's death in February 2006, the National Cathedral Choral Society's music director, J. Reilly Lewis, again contacted Argento.
"He said, 'What about writing a piece in honor of your wife? In her memory.' And the more I thought about it, I thought that I'd be fulfilling that commission and honoring my wife's request."
The result was a work called "Evensong: Of Love and Angels." It premiered last year at the National Cathedral and will receive its second performance tonight at Minneapolis' Central Lutheran Church, where Philip Brunelle will lead the choruses and orchestra of VocalEssence. Argento said that he had the work in mind for VocalEssence all along.
"Philip Brunelle was at the premiere in Washington with me," Argento said. "And we were already talking about this performance. The one in Washington was wonderful, but everybody involved in it was a stranger. I didn't know the conductor, the soloists, anyone in the chorus, and I didn't know anyone at the cathedral. They had taken the work to their hearts and really gave it a wonderful performance. But this one is different in that this is almost something between friends.
"Philip and I and Carolyn, my wife, have been friends for almost 50 years. And my wife was very fond of Maria Jette's singing. I think that she would be thrilled to know that Maria was doing the big soprano part. Both Carolyn and I knew a lot of the people in the VocalEssence chorus and a lot of people who are going to be in the orchestra. So it's so different here in that this is a kind of memorial being done by a group of friends."
"Evensong" became an even more deeply personal work for Argento, because he wrote most of the text himself.
"At first, I wanted to use the last lines of Thornton Wilder's novel, 'The Bridge of San Luis Rey': 'There is a land of the living and a land of the dead and the bridge is love, the only survival, the only meaning.' But I couldn't get permission (from Wilder's estate)."
However, Wilder still had an influence. His short play about the fountain at Bethesda and the angel that troubled the waters inspired Argento.
"The subtitle is 'Of Love and Angels,' " Argento said. "And the reason for the angels is that my wife's favorite icon all through her life had been angels. If you were to look at our kitchen right now, you'd see that there's a wall plastered with angels of all kinds. She always bought them when we went on trips and gave them to friends as gifts."
Has the creation of "Evensong" been part of Argento's healing process?
"Oh, yes," he said. "She died the first week of February in 2006. The next month or two, I was debating whether or not to write this piece. And I spent the summer thinking about how I would do it, if I did it. By the time fall came, I was thinking: Our wedding anniversary was Sept. 6, so I would start the piece then, whether I was ready or not. It was harder to do than I thought it would be. But I kept going and completed it on Sept. 6 a year later. They would have been our 52nd and 53rd anniversaries."
Tonight's performance of "Evensong" launches something of an Argento autumn: The Minnesota Opera presents a production of his comic opera "Casanova's Homecoming" in November.
Rob Hubbard can be reached at rhubbard@pioneerpress.com.