Ensemble Singers perform on "A Prairie Home Companion" with Garrison Keillor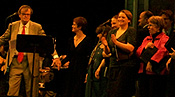 Saturday, February 13, 2010 at 5 pm (CST)
Don't miss the VocalEssence Ensemble Singers performing on the nationally broadcast radio show "A Prairie Home Companion" with Garrison Keillor.
VocalEssence has appeared many times with Garrison over the years and some of their colloborations are featured on these 2-CD sets:

Who knew a choir could be this funny? Garrison
Keillor, Philip Brunelle and the VocalEssence Ensemble Singers dish up
a generous helping of Potatoes a la Schubert, run away to Europe to
indulge their "Shenandoah" habit, and enlighten us on the T.U.L.I.P.
doctrine. This two-CD set of the best choral skits and bits from 10
years on A Prairie Home Companion includes the often-requested "Julia"
(John Lennon) and a rare choral interpretation of "Karma Chamelon" (Boy
George). With Charles Kemper and Richard Dworsky at the piano, The
Guy's All-Star Shoe Band and guest appearances by Tom Keith and Tim
Russell.
Hymn to Potatoes
Julia
Bohemian Rhapsody

On November 23, 2004, the Hopeful Gospel Quartet —
Garrison Keillor, Mollie O'Brien and Robin &
Linda Williams — traded musical moments with the
VocalEssence Chorus and Ensemble Singers in a concert
at Orchestra Hall, Minneapolis. The evening seamlessly
blended American folk traditions with choral masterpieces
old and new, from "Will the Circle Be Unbroken"
to "Now Thank We All Our God." Garrison Keillor
shared his Thanksgiving memories in a hilarious yet
poignant monologue.