Insight News: VocalEssence introduces new assistant artistic director
http://www.insightnews.com/aesthetics/10940-vocalessence-introduces-new-assistant-artistic-director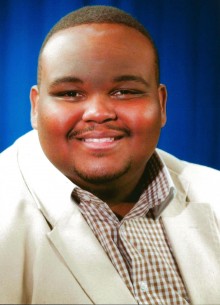 Minnesota-based choral organization, VocalEssence has a new first assistant artistic director.
Tesfa
Wondemagegnehu was hired after a global search to fill the position.
Wondemagegnehu comes to VocalEssence from Orlando, Fla., where he was
director of choral activities at Freedom High School (FHS). He will
serve under VocalEssence artistic director and founder Philip Brunelle,
and associate conductor and vocal coach Sigrid Johnson. In his new role,
Wondemagegnehu will help the non-profit expand its artistic vision,
provide programmatic growth opportunities and spread its reach
nationally. Wondemagegnehu will officially join VocalEssence in late
summer, in time for the start of the organization's 45th season.
During
his five years at FHS, Wondemagegnehu was named Orange County Public
School Teacher of the Year and received the Macy's National Gift of
Teaching Award. The new assistant artistic director holds a master of
music degree in choral conducting and vocal performance from Florida
State University and a bachelor of music in vocal performance from the
University of Memphis.
"We
are fortunate and honored to have Tesfa on board with VocalEssence.
From the moment I saw his audition video, I found him very inspiring,"
said Philip Brunelle, VocalEssence artistic director and founder. "You
can just tell how passionate he is about choral music. And our Ensemble
Singers responded enthusiastically when he came to Minneapolis for his
final audition earlier this year. I'm looking forward to working closely
with him on all aspects of artistic direction – from community
engagement, to fundraising and marketing – and, of course, conducting."
"The
assistant artistic director position offers me a chance to collaborate
with some of the finest choral musicians in the country, while still
able to connect with students in the VocalEssence ¡Cantaré! and WITNESS
outreach programs," said Wondemagegnehu. "This opportunity to learn from
Philip Brunelle and Sigrid Johnson is once-in-a-lifetime. The position
is the perfect marriage between educational outreach and choral artistic
excellence, and to say that I am excited about becoming a part of the
VocalEssence family would be a huge understatement."
Wondemagegnehu
is said to be widely in demand as a guest conductor and lecturer, and
has presented workshops and conducted honor choirs in Florida,
Tennessee, Ohio, and Costa Rica. As a tenor soloist, he has performed
both in the United States and internationally under the batons of such
conducting luminaries as André Thomas, Anton Armstrong, Krzysztof
Penderecki, Rodney Eichenberger, Judy Bowers, Kevin Fenton, and Pu-Qi
Jiang.
VocalEssence
is comprised of the 100-voice VocalEssence Chorus, the 32-voice
Ensemble Singers, as well as guest soloists and instrumentalists. Called
"one of the irreplaceable music ensembles of our time" by Dana Gioia,
past chairman of the National Endowment for the Arts, VocalEssence was
founded in 1969. Beyond performances and recordings, VocalEssence
impacts thousands of students, singers, and composers each year through
its initiative programs, contests, and support for innovative art.