Pioneer Press: VocalEssence has guests Shelby, Dessa and Sounds of Blackness
Longtime WCCO-TV news
anchor Don Shelby, Grammy-winning ensemble Sounds of Blackness and
budding hip-hop star Dessa are among the special guests set for
VocalEssence's newly announced 46th season.
"Music is a living art, and this year we're going to not only
explore legendary musical styles and pieces — the people, places and
things that have shaped our lives — but we'll be looking forward, too,
with innovative and unexpected music to push the envelope a little into
new choral pieces and styles," founder and artistic director Philip
Brunelle said in a news release.
Season tickets are on sale and priced from $180 for six concerts
to $102 for three. Single tickets will go on sale later this year.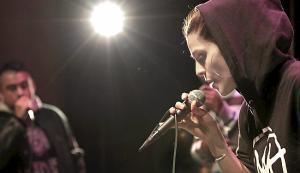 Dessa
sings "Bangarang" with Doomtree in front of a live studio audience
Thursday, December 1, 2011, at Minnesota Public Radio in St. Paul.
(Pioneer Press: Joe Michaud-Scorza)
Here's a look at the Minneapolis-based choral ensemble's 46th
season. Unless otherwise noted, performances will take place at
Orchestra Hall.
"Made in Minnesota," Oct. 26: Pieces from homegrown
composers Dominick Argento, Stephen Paulus and Libby Larsen are on tap
for the season opener, which will also feature Doomtree rapper Dessa in
her choral premiere.
"River Songs and Tales with Mark Twain Tour," Nov. 13-16:
Former TV anchor Don Shelby will join the VocalEssence Ensemble Singers
for this tour of four river towns: Faribault, Austin, Red Wing and
Dawson.
Young People's Chorus of New York City, Nov. 22, Roseville
Lutheran Church: Frequent performers at Carnegie Hall, the
multi-cultural Young People's Chorus of New York City is known for
collaborating with everyone from "American Idol" vet Jordin Sparks to
jazz master Delfeayo Marsalis.
"Welcome Christmas," Dec. 5-7 and 13-14: Fiddler Sara
Pajunen and narrator Katherine Ferrand will join VocalEssence in
performing carols from Norway, Sweden, Denmark and Finland. They will
perform at churches in Apple Valley, Stillwater, Edina and Minneapolis.
"Star of Wonder," Dec. 13, Plymouth Congregational Church:
Kids are invited to sit up close for this one-hour family concert
featuring members of the VocalEssence Ensemble Singers, dancers from
Folwell School and fiddler Sara Pajunen.
"Witness: Let Freedom Ring," Feb. 8: Sounds of Blackness join VocalEssence for this salute to Dr. Martin Luther King Jr.
"The Radio Hour," March 14-15, Fitzgerald Theater: This
new choral opera composed by Jake Heggie combines the world of "Alice in
Wonderland" with the golden age of radio.
"P.D.Q. Bach and Peter Schickele Birthday Bash," April 10,
2015, Ted Mann Concert Hall: This concert marks the 80th birthday of
composer/educator/parodist Peter Schickele as well as the 50th
anniversary of his fictional alias, P.D.Q. Bach, the "only forgotten
son" of the Bach family. The University of Minnesota Wind Ensemble will
be on hand to help perform his works.
"Gather at the River with Mark Twain," May 2, 2015,
Minnesota Centennial Showboat: Shelby once again joins VocalEssence to
play Mark Twain for this fundraiser to support choral music education
programs.
"Cantare Community Concert," May 21, 2015, Ordway Center
for the Performing Arts: A multi-generational, family-friendly fiesta,
with school and community choruses teaming up with VocalEssence to
perform the work of Mexican composers.
Ross Raihala can be reached at 651-228-5553. Follow him at twitter.com/RossRaihala.
http://www.twincities.com/music/ci_25415999/vocalessence-has-guests-shelby-dessa-and-sounds-blackness