What sweeter music: A Rutter premiere
VocalEssence uses its connections to get the U.S. premiere of a new John Rutter carol.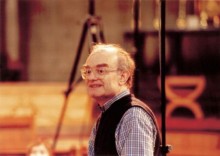 Philip Brunelle's connections frequently pay off for Twin Cities audiences. Brunelle's old buddy John Rutter had written a new Christmas carol for an English audience. In a phone conversation, Brunelle suggested that VocalEssence give the piece its U.S. premiere.
"I got a call from Philip and he said they were devoting much of their Christmas program to me, and I told him about the carol," Rutter said recently. "[VocalEssence] is a choir I've always admired and Philip and I go back 30 years."
"Carol of the Magi" is one of several Rutter works in VocalEssence's annual "Welcome Christmas" concert Sunday and again next weekend.
For Rutter, composing for Christmas is a thread that has run through his life back to his days as a high-school chorister at Highgate.
"The high point of our singing year was Christmas," he said. "Our parents would show up, and we'd do our best to sing our best music and make it a real sense of occasion."
From singing, he said, it seemed a short step to composing. He has gone on to become one of the world's most-successful choral composers. Much of that popularity derives from his fondness for the Christmas carol, which he calls a "form of folk celebration" that combines the sacred and the secular in a unique way.
"When you write a carol, you are connecting to a tradition that goes back much farther than any symphony or concerto," he said.
Given this affinity, it follows that Rutter is eager when approached to write something new. "Carol of the Magi" came up when a children's charity near his home in Cambridge commissioned him to provide a song for an upcoming program in London. Because of the group's mission, Rutter said he felt moved to focus on a theme of children and our responsibility toward them.
"It's sort of the idea of one of the magi reflecting years later and saying, 'Goodness me, I still remember something special about that child,'" he said. "That got me started on what it is about the Christmas story that speaks to the innocence and vulnerability of every child."
Rutter said he would love to visit Minnesota for the U.S. premiere, but the event clashes with his London Christmas concert at Royal Albert Hall. He guest-conducted VocalEssence five years ago, and last January, he and Brunelle visited during the group's English tour.
In addition to the new work, VocalEssence will sing two other Rutter carols and several traditional anthems that he has arranged.

What: VocalEssence, conducted by Philip Brunelle.
When: 4 p.m. Sun., and next Sun.; 7:30 Fri.-Sat.
Where: Plymouth Congregational Church (both Sun.), 1900 Nicollet Av. S., Mpls.; Normandale Lutheran, 6100 Normandale Rd., Edina (Fri.) and Trinity Lutheran, 115 N. 4th St., Stillwater (Sat.).
Tickets: $23.50-$43.50. 612-371-5656 or www.vocalessence.org.