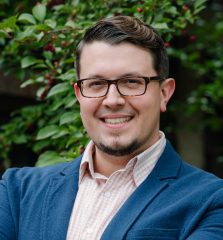 Program Manager for Learning and Engagement | Conductor, Vintage Voices
phone 612-547-1458
fax 612-547-1484
robert@vocalessence.org
Robert J. Graham joined the VocalEssence team in August 2012 as both a member of the administrative staff and as a second tenor in the VocalEssence Ensemble Singers. As the Program Manager, Robert oversees the operations of both the acclaimed WITNESS School Program and Choral Pathways, which brings quality music and arts education to older adults in residential and assisted living communities across the Twin Cities Metro. In 2015, Robert also became the conductor and program manager of the Vintage Voices program, an exciting new choral program that integrates the arts into the everyday lives of older adults by fostering the creation of choirs in assisted living facilities and senior centers.
Prior to joining the VocalEssence staff, Robert earned the Master of Music degree in the dual concentrations of Vocal Performance and Pedagogy, and Choral Conducting from Southern Illinois University-Carbondale. He also earned the Bachelor of Arts degree in Music Performance and Business Administration from Xavier University of Louisiana. A Minneapolis native, Robert spends his free time painting impressionistic scapes and practicing piano, in addition to exploring the great outdoors.