Since 2006, VocalEssence has partnered with Osher Lifelong Learning Institute (OLLI) at the University of Minnesota, a membership-based community of older adults in the Twin Cities metropolitan area who love learning and enjoy spending time with like-minded individuals.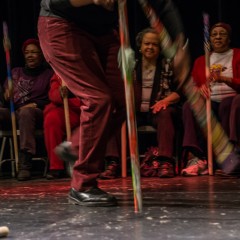 In 2012, VocalEssence proudly introduced Choral Pathways, a remarkable new program designed to enrich the appreciation of choral music and the arts for older adults in assisted living homes and senior centers across the Twin Cities metro. The Choral Pathways mission is to identify and overcome barriers to participation that many older adults experience, including cost, transportation and the opportunity for quality arts programming.
In 2015, VocalEssence launched Vintage Voices, an exciting new program that integrates the arts into the everyday lives of older adults by fostering the creation of choirs in assisted living communities and senior centers. Led by conductor Rob Graham and accompanist John Jensen, participants come together weekly to socialize and sing, learning a broad variety of choral literature and building musical skills over the course of 12 weeks, which culminates in an on-site concert at each facility. Participants also have the opportunity to attend a VocalEssence subscription concert!
VocalEssence is committed to the joyful possibilities of engaging in artful aging–this inspiring video produced by Aroha Philanthropies tells the reason why.