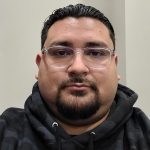 Marketing Intern – Spanish-Speaking Families
phone 651-276-6706
saul@vocalessence.org
Saul is a Senior at Augsburg University with a major in Business Management. He is fluent in both English and Spanish, as well as grammatically proficient. He would like to hone in on what career move he should take after graduation and believes that this internship will open doors for him after graduation within the LatinX community here in the Twin Cities. He would also like to use project management tools and resources first hand to gain experience for his future career. He likes to problem solve in real time during projects. He likes to work with others remotely and in person. Originally from Milwaukee, WI, Saul currently lives in Minneapolis with his wife and two dogs, Luna and Layla.