VocalEssence seeks to develop future singing generations in ways that are reflective of and responsive to diverse constituencies. We will offer inclusive and accessible artistic opportunities at the core of our creative engagement. The table below highlights our intentions drafted in our 2018-2020 Strategic Plan to advance inclusion, access and equity.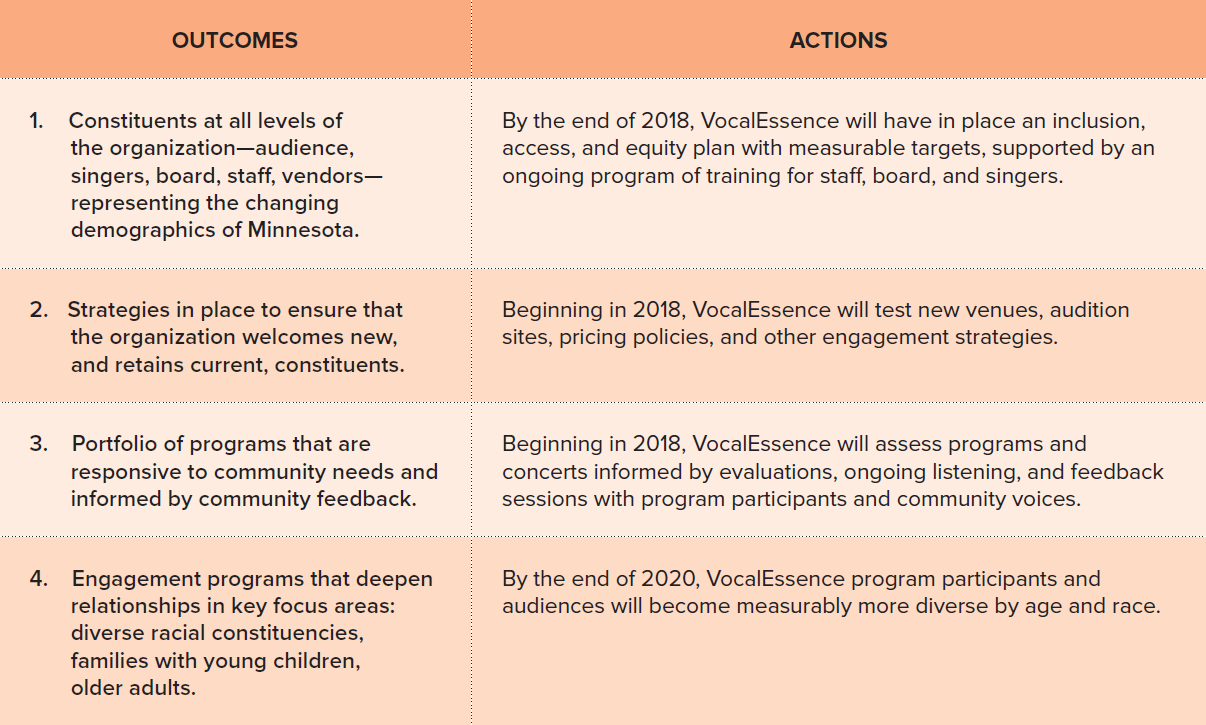 Through our recent 8-month Listening Zone Initiative we engaged over 200 members of our constituency for feedback related to increasing accessibility with a lens towards inclusion. For more information about the Listening Zone Initiative, please click here.
Next Steps
The Listening Zone Initiative Comprehensive Report was reviewed at our September 2018 Board and Staff retreat. Three strategic areas of immediate action were identified. The VocalEssence staff, led by Executive Director Mary Ann Aufderheide and the VocalEssence Board, are currently working on the actions listed below. To see updates to the next steps, please visit our Inclusion, Access, and Equity Stories on our website.
Build internal capacity to implement Inclusion, Access, and Equity (IAE) priorities through staff, board, and singer training, and identification and hiring of a high-level staff member to champion this work. The work should include leading, supporting, and monitoring staff and organization expectations and accountability.
Develop and implement clear brand messaging that addresses the intent and desired impact of our IAE work as well as other new strategic directions.
Strategically identify organizations and relationships with whom VocalEssence might authentically partner to advance this work.
The Time is Now
A major societal issue is the conscious development of equitable opportunities in a pluralistic society. This issue permeates discussions and actions in the arts, serving as a catalyst for new conversations among funders and arts organizations about how to address age, racial, gender, cultural, and economic disparities. Areas of market consideration include:
Significant foundation/corporate funding reallocation to organizations with participants/leadership reflective of shifting demographics
Audiences want to identify with the artists that appear on stage; organizations seek to reflect the audience diversity they desire, while being challenged to adapt to the changing ways consumers seek to access musical content
Rise in number of artistic competitors meaningfully addressing social issues, informed by community voices