The VocalEssence Gala 2020—Better Together is designed to be a fun and interactive experience for guests. The reception will begin at 4:30 p.m. on Sunday, October 4, 2020 with a silent auction featuring amazing entertainment. You will have the opportunity to help create a community created mural with visual artist Ta-coumba Aiken, enjoy a custom cocktail chilled by our ice luge, take a photo at our photo backdrop, and post those photos on our Social Media wall! You can also bid in the incredible silent auction featuring amazing packages, and purchase raffle tickets to win our Stock Your Cellar – Wall of Wine raffle! Tickets will be $20.
Dinner at the main event will begin at 6:00 p.m. and will feature performances by the VocalEssence Chorus, VocalEssence Singers Of This Age, and the VocalEssence Teaching Artists, with T. Mychael Rambo as our emcee. The event will also include a live auction and fund-in-need presentation with auctioneer Glen Fladeboe of Fladeboe Advancement.
See below for more of what to expect.
ATTIRE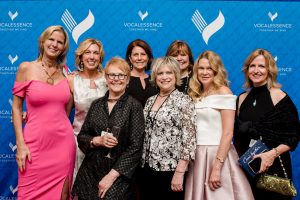 Be it kilt, dress, dashiki, suit, or sari, guests are welcome to wear what they deem as celebratory attire based on
their own cultural heritage and traditions. Looking for inspiration? Feel free to visit our VocalEssence Gala 2020 Pinterest idea page for ideas.
MENU
RECEPTION HORS D'OEUVRES
Melon Crazy (v/gf), Wagyu Beef Ala Roma, Black Bean Empanada (v), and Potato Wrapped Shrimp (gf).
FIRST COURSE
BASIL, FENNEL AND STRAWBERRY SALAD
Spring Greens Tossed with Fresh Basil, Shaved Fennel, Yellow Pepper, Radish, Fresh Strawberries,
Sweet scallion Poppy Seed Vinaigrette (GF, DF, V).
ENTRÉE
FIRE GRILLED SESAME CHICKEN
Topped with a frisee and pepper salad. Served with a root vegetable hash, roasted purple Peruvian five spiced potatoes and a roasted green top carrot.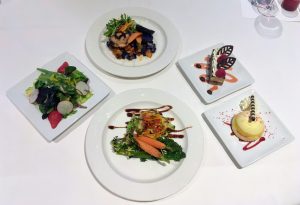 OR
GRILLED ZUCCHINI PURSE
Stuffed with Arborio rice and sundried tomatoes. Served with a balsamic glaze reduction, Broccolini, green top carrots and caulini.
DESSERT
LEMON RASPBERRY TIRAMISU
Lady Finger, Lemon Curd, Mascarpone, Pastry Cream, Raspberry Power and Sauce with Chocolate Decor.
OR
NIGHT AT THE OPERA
Five Layers of Chocolate, White Chocolate Mousse, Raspberry, Candied Espresso Bean, Raspberry Sauce.
BEVERAGES
A cash bar will be available during the reception and red and white wine sponsored by Haskell's will be hosted at the seated dinner. If you wish to purchase advance drink tickets for you or your guests, please contact Laura Holst.