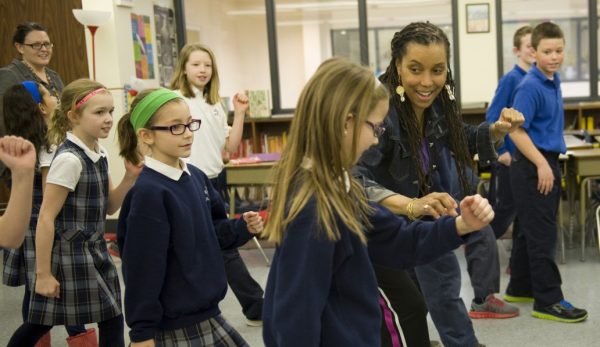 The School Program
The VocalEssence WITNESS School Program is an exciting opportunity for Minnesota students and teachers to learn more about the contributions African Americans have made, and are making, to the fine arts. This program is recommended for students in grades 4-12, is open to all classrooms and subject areas, and includes:
Two free school workshop visits with a VocalEssence Teaching Artist.
A Teacher Orientation Seminar on Saturday, October 5, 2019 (cost: $20 per teacher), that introduces teachers to the program and provides a professionally written set of resources that meets MN state academic standards in a variety of subject areas.
A field trip for your students to attend the annual VocalEssence WITNESS Young People's Concert on Monday, February 24, 2020 at 10:00am, 11:35am, or 1:15pm at Orchestra Hall in Minneapolis (cost: $3.50 per concert ticket). In addition, all schools are eligible for partial reimbursement for busing to Orchestra Hall.
The 2019-2020 Theme: Blooming with Creativity
Join us as we celebrate 30 years of VocalEssence WITNESS! The program will highlight the multi-faceted gifts of our VocalEssence Teaching Artists through a biographical exploration of their journey and introduction to the inspirational artistic figures that have helped shape their lives and careers.  Inspirational artistic figures explored throughout the program include: Queen of Soul Aretha Franklin, The Roots' frontman Questlove, iconic dancers Baba Chuck Davis, Katherine Dunham, and Pearl Primus, Sweet Honey in the Rock founder Bernice Johnson Reagon, and Renaissance man Paul Robeson.
Learn more about VocalEssence WITNESS, its history, and its impact on schools and our communities here:
Ready to become a VocalEssence WITNESS Partner School?