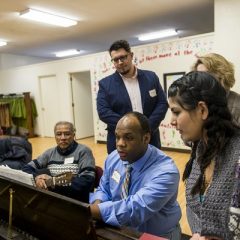 In the 2015-2016 season VocalEssence partnered with the Teen Adolescent Pregnancy and Parenting Program at Longfellow Alternative High School in Minneapolis. VocalEssence Associate Conductor G. Phillip Shoultz, III and an octet of VocalEssence Ensemble Singers collaborated with VocalEssence ¡Cantaré! composer Francisco Zúñiga to help six Latina teen moms write Spanish language lullabies.
These lullabies were recorded and are available for listening below. Two of the lullabies were performed at the VocalEssence ¡Cantaré! Community Concert at the Ordway Concert Hall in Saint Paul in May 2016.
The program had a lasting impact on the six teen moms in the program.
"I like to sing to my son, so when I heard about the Lullaby Project I was on board. I never imagined myself to be able to sit down with composers and singers getting to write something that I want for my child, and for that I'm really happy."
"The recording was like angels singing—the singers touched my heart. I have sung the lullaby to my son, and he smiles and laughs. The song has made my strong feelings for my son even stronger."
"After going through the Lullaby Project, I feel like I have better goals for myself and my son. It has made me want to pursue a PhD in criminology instead of an MA."