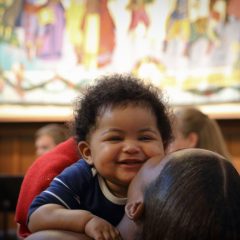 In the 2016-2017 season VocalEssence partnered with the Teen Adolescent Pregnancy and Parenting Program at Longfellow Alternative High School in Minneapolis. VocalEssence Associate Conductor G. Phillip Shoultz, III and an octet of VocalEssence Ensemble Singers collaborated with guest artist Melanie DeMore to help four African American teen moms and one grandmother write lullabies.
These lullabies were recorded and given to the moms.
The program had a lasting impact on the teen moms in the program.
"At first I thought 'Am I really gonna have to sing?' but now, after creating the lullaby, it's better. This is cool. It can be something that can be passed down."
"I got the song out of me, and now my son has something from me."
"This was a great experience – inspiring!"