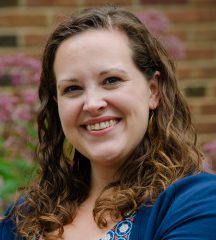 Institutional Giving & Events Manager
phone 612-547-1452
fax 612-547-1484
elissa@vocalessence.org
Elissa Weller joined VocalEssence in 2007 as the Chorus and Volunteer Manager. In addition to her work managing the Chorus and Ensemble Singers and overseeing organization volunteers, in 2010 she began managing the VocalEssence WITNESS Community Engagement Program. In 2012, Elissa was promoted to Institutional Giving & Events Manager. In her current role, she oversees research and development of corporate, foundation and government funding sources and plans VocalEssence special events and fundraisers.
Prior to joining the VocalEssence staff, she spent several years managing events, institutional and corporate sales as a Community Relations Manager for Barnes & Noble. Elissa has also done contract work as a part-time Administrative Associate for the Oratorio Society of Minnesota and a Stage Manager for One Voice Mixed Chorus in Saint Paul. She graduated Magna Cum Laude from Hamline University with a Bachelors of Arts degree in Flute Performance and Political Science Public Policy.