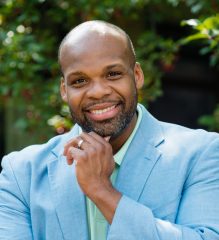 Associate Conductor | Director of Learning and Engagement
phone 612-547-1453
fax 612-547-1484
gps@vocalessence.org
Known for fostering community and inspiring action among people of all ages and abilities, G. Phillip Shoultz, III, enjoys a multifaceted career as conductor, educator, singer, and speaker. Phillip is the associate conductor and director of learning and engagement of VocalEssence where his most visible impact is seen through his visionary leadership as founding conductor of the VocalEssence Singers Of This Age and through his engaging Take 5 with GPS daily livestream and series of instructional videos.
Phillip serves Westwood Lutheran Church as Cantor for Music, Worship, and the Arts. He is the principal Host for Young People's Concerts with the Minnesota Orchestra and frequently appears throughout the U.S. as a guest clinician, adjudicator, and consultant.
Expanding boundaries and creating wider access to the choral arts is one of Phillip's passions. Each year, he serves as mentor to educators through classroom visits and as an adjunct faculty member in the Graduate Music Education program at the University of St. Thomas. Additional post secondary teaching experiences include work at the University of Minnesota, Georgia State University, and the University of Georgia while he completed his studies.
The winner of the 2015 American Choral Directors Association Graduate Student Conducting Competition, Phillip appeared as a Conducting Fellow with the Oregon Bach Festival, Chorus America, Choral Music Experience Institute and several other summer programs. He has prepared choirs for performances in Canada, England, Estonia, Finland, France, Germany, Mexico, and Russia. In 2017, he was named as an ACDA International Conductors' Exchange Program Participant.
His service as a public school educator in Georgia garnered multiple Teacher of the Year honors. While there, he also served as Artistic Director to an adult community choir (Gwinnett Choral Guild) and a youth organization (Atlanta Institute for Musicianship and Singing), founding director of the Georgia Young Men's Ensemble, a part of the Grammy Award–winning Gwinnett Young Singers, and the Assistant Director for the professional chamber choir, Coro Vocati.
Phillip enjoys biking, boxing, and all things related to sports and food. A proud Board member of the VoiceCare Network, Phillip believes every person can experience great joy through singing and passionately encourages exploration of body, mind, and voice through corporate singing experiences. Phillip lives in St. Louis Park, Minnesota with his wife, Michelle, son, Malachi, and daughter, Lydia.
G. Phillip Shoultz, III Press Photos
Download High Res photos by control-clicking or right-clicking on the images. For press/promotional use related to VocalEssence events only.