A measured breath, but no rest for Golden Valley music mogul
byAlaina Rooke | December 5, 2018: https://www.hometownsource.com/sun_post/community/a-measured-breath-but-no-rest-for-golden-valley-music/article_74816f46-f75e-11e8-9af1-b771ceaf37f4.html
Top Minnesota choir director and longtime resident Philip Brunelle looks to 50th year
"One of my mottos is you don't know if you don't ask," explained Philip Brunelle of attracting top guest talent to VocalEssence, a premier choral organization he founded in 1969. "You have a 50-percent chance of getting a 'yes.'"
He smiled. "Other people might not think that way, but that's the way I choose to."
That sort of thinking convinced Aaron Copland, known as the "Dean of American Composers," to come to Minneapolis and conduct his music for the choir.
Brunelle remembers making contact with the Copland for the first time. He said the composer was quiet for a beat and wondered aloud why "no one has ever asked me that." Copland proceeded to give him a few dates and times that he would be available, and the results were one of the first VocalEssence productions.
Throughout Brunelle's tenure with VocalEssence, many more of his "simple asks" have warranted a little name-dropping here. When the choir needed a narrator, he managed to find the one and only James Earl Jones amiable to the cause. His crew was considered A Prairie Home Companion's house choir for its high number of performances on the radio show. Three years ago, TCF Bank Stadium rocked to the Rolling Stones. So did VocalEssence, onstage.
Brunelle, a longtime composer, organist and choirmaster in the Twin Cities area, was recently recognized by Minnesota AARP on the annual "50 over 50" list, a collection of Midwestern movers and shakers who have made significant contributions to business, the arts, nonprofits, their community or disrupting the status quo. Fellow Golden Valley influencer Rose McGee was also honored.
At 75, Brunelle easily makes the over 50 requirement, but so does his lifetime involvements with VocalEssence and Plymouth Congregational Church. Besides being founder, he has been the artistic director for the choir and choirmaster and the organist at the church for 50 years. For a person well past the average age of retirement, he doesn't seem to mind having two full-time jobs.
"I don't know the last time I worked just 40 hours in a week," he said, saying it can be closer to double that number. "There are not two days that look alike, and it's all seven days a week."
"But I love it."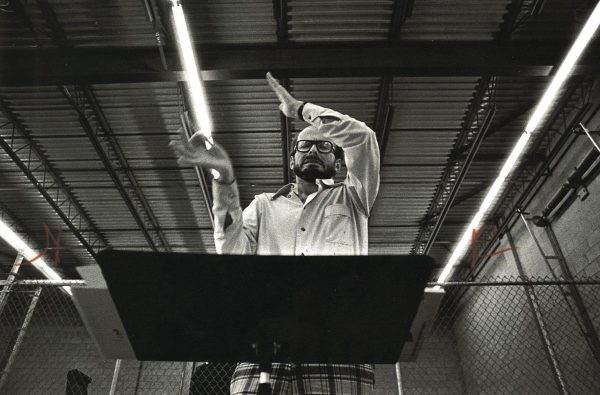 Brunelle has always been in Minnesota. His musical inclinations were evident by age 4, when he began piano and was a bold vocalist. For those first few years, he was a boy soprano and performed to the public wherever and whenever he could.
His family moved to Minneapolis when his minister father was transferred to a new church. His father died early in Brunelle's life, but the church remained integral to his upbringing. By adolescence, he was accompanying services, and his first job at age 15 was playing the organ for a church in Bloomington while he took lessons from Arthur Jennings, Plymouth Congregational Church's organist.
At age 19, he was a member of the Minnesota Orchestra, and five years later he was music director of the Minnesota Opera.
"I knew I was going to be in music," he said. "And I knew I was going to be a conductor, and also a pianist, and also an organist."
When it was time for Jennings to retire from Plymouth Church, Brunelle was tapped to replace him. Despite the church's founding in 1858, Brunelle is just the third organist to serve there and has no plans to halt the tradition of a long tenure.
He has a lot of respect for the church, which is known for taking a progressive stance on social issues throughout history, including civil rights, the Vietnam War and LGBT rights. Brunelle recalled a legend that a pre-Civil War Plymouth minister was let go for his stance on slavery. It wasn't that he was pro-slave; he just wasn't anti-slavery enough.
He is also proud of his loud congregation.
"Visitors are shocked that they sing with such gusto," he said. "And I go, 'yes, they do, and it's taken a little time for everybody to do that.' In any organization, I would want people to really sing. It's healthy to sing."'
He and his wife briefly lived in a fourplex in Robbinsdale before settling in Golden Valley with children Tim, Christopher and Elise. He and his wife have been residents for 47 years.
During Thanksgiving, he reported having good fun with his grandchildren on the piano. While their skills stop at the latest pop tune ("Which is okay!" Brunelle said), the children enjoyed poking a random set of keys and ordering their grandfather to turn it into a song.
'Enjoy more music'
Above all, Brunelle counts himself lucky to be working among people as equally passionate about choral music. VocalEssence prides itself on performing common works and works that many have never heard: to date, the organization has commissioned more than 300 original pieces.
The group, founded around the time Brunelle took control of Plymouth Church, has an ambitious season ahead: a full week of holiday performances around the metro area, a performance of "Candide" in collaboration with Theatre Latte Da, a choral arrangement of Bob Dylan works at the Palace Theater, and even a "Frozen" themed singalong at the American Swedish Institute.
His ultimate goal for working in the music world is to broaden people's musical tastes, just as he has challenged himself to do all his life.
"Keep reaching and enjoying more music," he said. "As much as I loved Handel and Brahms, I'm going, 'What else is out there for me to get to know?' You have to keep widening that."
Brunelle's gumption to vocalize a full spectrum of work, however eccentric, is how the VocalEssence has remained a Twin Cities choral favorite. When Josh Groban and Idina Menzel came to town last month, it was not Brunelle who first contacted them, but the other way around.
With 50 years of experience under their belt, "we know that we can deliver. We have the quality to do the job," Brunelle said.