Announcement: John Rutter Jubilee

January 7, 2014
VocalEssence Patron,
We are very excited to create spectacular John Rutter Jubilee performances this
March. And, as the date of the concerts approaches, I'd like to take a moment
to make sure that you are one of the first people aware of a change.
John Rutter was originally scheduled to conduct these performances, but has recently been advised by his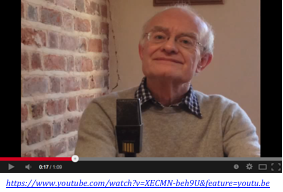 doctor to refrain from international travel until April due to a short-term illness. John is recuperating in England, and hopes
to make a full recovery.  Please view the message from John Rutter by clicking on the picture to the right.
Because of this change, the John
Rutter Jubilee performances will be conducted by the VocalEssence artistic
staff, and, in honor of John, the program will focus solely on John's own
choral pieces, including Birthday Madrigals, A Dedication and an Amen, All
Creatures of Our God and King and Requiem. John Rutter's comments will be included in
a pre-recorded welcome and in three composition introductions during each
performance.
John
is a prolific composer – his limitless talent
ranges from large-scale orchestral pieces to children's operas to concertos.
And while we are so regretful he is
not able to be with us in person for this concert, we look forward to
celebrating his genius through his music.
All of the details, including date and
time will remain the same.
We invite you to join us on Friday, March 21 at 8 pm and Sunday, March 23 at 4
pm at Central Lutheran Church for the concert. John
Birge will be interviewing Philip Brunelle about his experiences working with
John Rutter at 7 pm on Friday and 3 pm on Sunday before the concerts.
On Saturday,
March 22, at 10 am Philip Brunelle will conduct a Community Sing at Hennepin
Avenue United Methodist Church, featuring John
Rutter's music. Choral fans as well as vocalists, amateur and experienced
alike, are invited to attend – sheet music will be provided! Tickets are $25.
They will be available for purchase for VocalEssence Season Subscribers
on Wednesday, January 15, 2014, and for the general public on Monday, February
3, 2014.
Ticket holders with questions may call the
box office at
612-371-5656 Monday through Friday 10 am to 2 pm and may visit VocalEssence.org
for more information.
Cordially,
Mary Ann Aufderheide (Pulk)
Executive
Director