British Invasion' shows universality of music
10/25/2009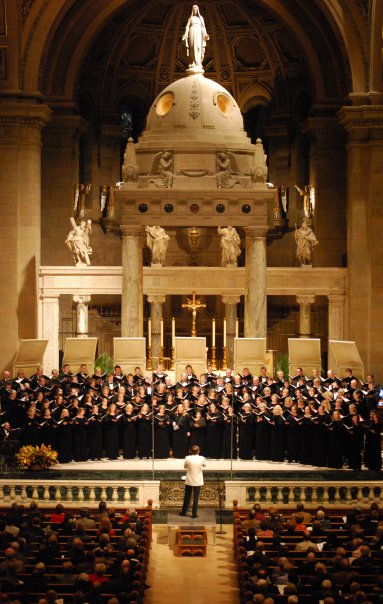 VocalEssence
promoted the appearance of choral-conducting star Simon Halsey as a
"British Invasion," and the performance Saturday at the Basilica of
Saint Mary in Minneapolis was that — of a sort. It was Halsey shaping
the voices of local singers in a program of text-painted music by
English composers.
The two centerpieces of the program included the American
premiere of Julian Anderson's "Four American Choruses," commissioned
about five years ago for performances by the City of Birmingham
Symphony Chorus, which Halsey has led for the past 25 years. The other
centerpiece was Michael Tippett's setting of five American spirituals
from his World War II-era oratorio, "A Child of Our Time."
In some ways, you could call those two works a vision of
America through British eyes, though the reality is more about the
universality of music.
Anderson's work, for example, takes its texts from one of the
volumes of gospel songs collected by Ira D. Sankey, a late 19th-century
associate of evangelist Dwight L. Moody. But the music, which is mostly
sensuous and shimmering, is entirely of Anderson's creation. The most
intriguing section is the second song, "Beautiful Valley of Eden,"
which splits the singers into four groups and requires them to perform
more or less independently, with specified entry cues holding the whole
thing together. Surprisingly coherent, the section still has the
quality of discovered chance music.
Tippett's choral arrangements of spirituals, on the
other hand, would probably rankle those who dislike "artified" versions
of music burnished in America's sad racial history. But the
arrangements of familiar songs like "Deep River" and "Go Down Moses"
were an effort by Tippett to find the modern equivalent of the Lutheran
hymns that Bach used to anchor works like the St. Mark Passion. Taken
out of that oratorio context, they sound a little odd — beautifully odd
— to American ears.
As a whole, the performance demonstrated the peculiar chemistry
that leading conductors always bring to a guest appearance. The
VocalEssence choir and its smaller, professional 32-member Ensemble
Singers performed with pleasing delicacy and detail and with a richness
of vocal balance. In the end, the chorus applauded its conductor.
Clearly, Halsey is inspiring to musicians.
The concert was bookended by two favorites of English choral
literature — C. Hubert H. Parry's "Songs of Farewell," which was some
of the last and greatest music Parry wrote shortly after the turn of
the 20th century; and Charles V. Stanford's "Three Latin Motets," which
still hold a central place among Anglican compositions.
If not a British invasion, the concert was certainly a British infusion.