'Four Saints' playful in words and music
REVIEW: Opera by Gertrude Stein, Virgil Thomson gets delightful staging by VocalEssence, Black Label troupe.
By TERRY BLAIN Special to the Star Tribune
MARCH 20, 2016 — 11:24PM
It has no plot worth mentioning, and the silliest libretto in operatic history. That's the naysayers' take on Virgil Thomson's "Four Saints in Three Acts," which hasn't stopped the opera achieving canonic status since its 1934 premiere as one of the seminal works of American music theater.
"Four Saints" reached the Twin Cities on Saturday in a new staging by Vocal­Essence in collaboration with the dance troupe Black Label Movement. It slotted perfectly into the beautifully restored Goodale Theater at the Cowles Center, the platform dominated by a glistening checkerboard backdrop and bookended by a pair of chrome-plated lecterns, their twisted structures referencing Calder and Picasso.
At these presided the Commère and Compère, laconic narrators played with a winning, deadpan understatement by Robin Joy Helgen and Michael P. Schmidt. Stein's text gives them mainly non sequiturs and inanities to utter, and that is also what the singers of the chorus have to deal with. By clarity of diction and a deft appreciation of syllabic patterns, however, they liberate the underlying impulses and inner logic of Stein's barmy wordplay, its delighted relishing of words as sound, not dull semantics.
It's the music, though, that really matters in "Four Saints," particularly as the text itself is treated as a kind of supernumerary musical instrument. And here the evening had its major triumph, in the glowing contributions of the Vocal­Essence singers, and the peppery, idiomatic playing of the 22-piece orchestra.
The choral writing, of which "Four Saints" has plenty, was securely pitched and rich in expressive detail, while among the solo parts the vibrant Teresa I of Sophie Amelkin and the wry, ringing St. Ignatius of Nathan Petersen-Kindem particularly caught the attention.
Carl Flink's choreography riffed elegantly on the nuances of text and music, and his direction of the vocalists produced impressive levels of fluidity in the onstage action.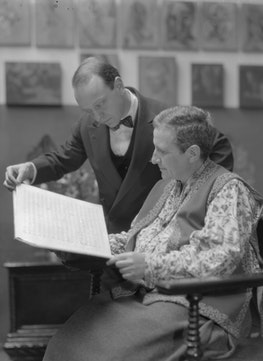 VocalEssence director Philip Brunelle was the vastly experienced hand on the tiller, setting ideal tempos and unfailingly locating the spots of tenderness and emotion in Thomson's score, so easily lost amid the general brouhaha and whimsy.
What you eventually make of "Four Saints" is more personal than it is with most operas; the work is one of a kind and deliberately provocative. This particular production, by not agonizing over deeper meaning or imposing "helpful" narratives, emanated a sense of pure pleasure in the playful act of artistic creation, and an uncomplicated enjoyment.
And as Gertrude Stein herself once said of "Four Saints," "If you enjoy it, you understand it".
Terry Blain is a Twin Cities-based music critic.