How Philip Brunelle Became the Twin Cities' Song Leader
Philip Brunelle has been the song leader of the Twin Cities for 50 years. But how he got there? It wasn't all a joyful song.
June 18, 2018: http://mspmag.com/arts-and-culture/how-philip-brunelle-became-the-twin-cities-song-leader/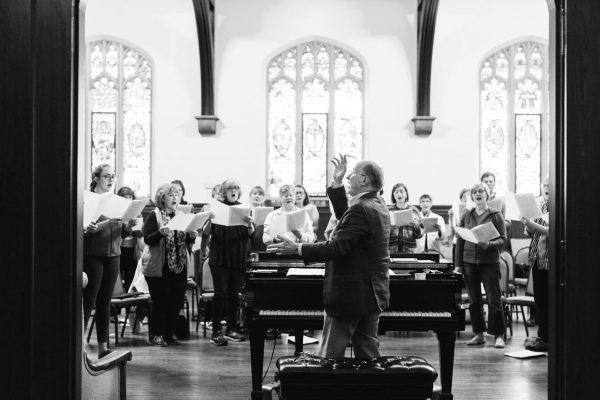 Philip Brunelle is 75 years old and an international icon in choir circles, and if you follow him around on a typical Tuesday night at Plymouth Congregational Church, in downtown Minneapolis, you witness something like a flying fish being watched by schools of other fish, hoping to fly themselves someday.
Brunelle is dashing, silvery, and darting in a chinos-and-sweater sort of way, and forever in motion. One minute he's rising up on tiptoes for a high note, the next he's slicing his hand through the air to create silence, fluttering his eyelids in different expressions of joy, transport, or gathering dismay.
The 150-or-so heads in the house follow Brunelle's every move, their very breath rising and falling at each wave of his arms or flick of his fingers. The singers separate into two pools: the 32 "professionals," mainly music teachers and such, who tour the world with VocalEssence, the choir he assembled in 1969; and then the 120 volunteer choristers who must pass a competitive audition, but mainly earn their keep through other means.
One night when I watch the rehearsals, the groups are learning a new song. And there's more discussion of the word "the" than I'd ever have believed possible. What if "theee" and "th" collapsed into the next word? What does it sound like with a breath taken just before "theeeeee"? It's a word I'd heretofore found pretty boring, but after another two dozen permutations, I'm starting to get interested. And the singers? All 150 heads follow Brunelle with the rapt attention typically accorded Darth Vader about to unload some family history on Luke.
"All music is just rhythm," Brunelle explains to me later, that being the key to the different thes. But don't forget, the the has its own context and meaning. "No other instrument has words. That's what makes singing so terrific."
I ask him if he discussed this with Darth Vader, or rather James Earl Jones, when Brunelle served him dinner at home in Golden Valley, but Brunelle can't recall. He did write down what he and his wife, Carolyn, prepared for Jones back in 1994: watercress soup, fruited stuffed pork loin, wild rice, green beans, and a pecan tart. In 1996—a return engagement—the Brunelles served Jones borscht and beef stroganoff.
The Brunelles have hosted a lot of august guests for dinner over the years, typically after first inviting them to compose or perform with the choir. This list has included Benny Andersson from Abba, David Hockney, and Aaron Copland. Still, the idea of the icon James Earl Jones eating borscht with Philip Brunelle seems uniquely charming. Did Darth Vader ever eat borscht in Golden Valley? The question no one thought to ask has a surprisingly satisfying answer.
More gratifying still is the answer I get when I ask Brunelle one too many questions about the methodology of singing. This prompts him to pull two tenors out of the crowd, Bob and Erik. Brunelle directs each of them, with a quick phrase, to start singing a complex series of notes. Suddenly, Bob and Erik are making wondrous and spontaneous loud music, as if from one of the enchanted instruments in Fantasia. Big music from nowhere. They proceed to demonstrate different types of notes and vibratos: Sometimes singing together produces happy harmony and other times singing together creates a sonic mess.
"If I had my druthers—which I don't—I'd have a concert every day," Brunelle tells me. "But no one wants to go to that many concerts. But there's so much to explore! I just love it all."
He confides that what no one understands is that the voice is the only instrument you can't see the workings of. It's also the only one that is unique, expressing the personality, health, character, preoccupation, intent, insight, and intellect of each singer. Compared to the human voice, a Stradivarius violin is really just another trumpet.
•••••
Even here beneath the dark wood eaves of Plymouth church, almost none of these melodious folks know how singing once rescued Brunelle. His father was a Methodist minister, and the family of five kids lived in the parish house in Northeast Minneapolis. On Christmas morning  in 1956, when Brunelle was 13, the kids were singing for their parents when Brunelle's father experienced a heart attack. He died in front of them. The family—the widow, an 11-month-old baby, a 2-year-old, an 8-year-old, Brunelle, and his 15-year-old brother—suddenly found themselves without any income or anywhere to live.
"My mother gathered us all," Brunelle says, "and I remember her saying, 'Well, I don't know how this is going to work, and it will be an adventure, and God will provide.'"
Brunelle already knew how to sing, play piano, and sight read music. In fact, as a boy soprano, Brunelle had won a major radio talent show, with a cash prize. The family's surest path to paying rent looked to involve their musically gifted child.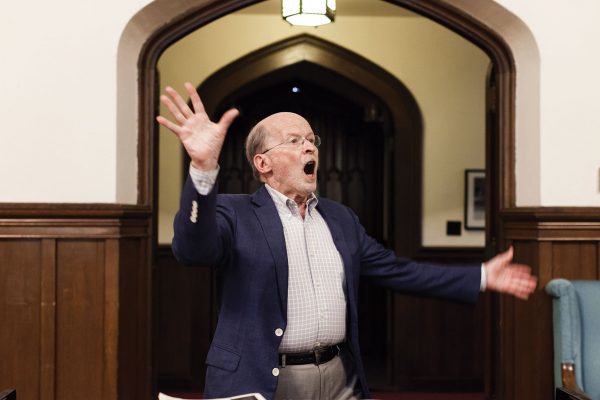 Unfortunately Brunelle's voice changed, ending the career of the boy soprano. "It was traumatic," he confesses now. The family moved to a small house near the Mississippi River and 44th Avenue. Brunelle's mother took in boxes of envelopes every night and, for a few pennies each, typed addresses onto them, like the fairy tale about spinning straw overnight into gold. Brunelle pitched in, playing music for any church he could reach by city bus, and doing piecework typing. Brunelle waves his hand when asked about the pressures he and his brother experienced to support a family, though he admits he wouldn't happily revisit their lean-years diet of powdered milk and canned-bean sandwiches.
A sympathetic organ teacher gave Brunelle discounted lessons: There was more money to be made in the big Minneapolis churches that could afford organs. By the time he was 16, Brunelle would zip on his bike from one church to another, whipping off as many renditions of Handel's Messiah as he could pack in to a Christmas morning.
Brunelle's accomplishments start piling up at this point: a full music scholarship to the University of Minnesota; a percussion gig and then a piano job with the Minnesota Orchestra; a Metropolitan Opera audition, and summer scholarship, in New York. But Brunelle thought about what choirs had meant to him since he was 13 years old: this community of voices that had saved his family, the thousands of voices singing hallelujah from what felt like every Minneapolis corner church. And he thought about an offer Plymouth Congregational Church had made him, and he stayed.
That choral job, started in 1969, turned into VocalEssence. And for nearly 50 years, he's been building it into one of the world's greatest choirs. They fly around, premiering choral works (more than 140 to date), garnering Brunelle a Grammy and an Order of the British Empire for his troubles.
Still, on most Tuesday nights, you'll find him in the same spot he's been all these years. That is, rehearsing with his choir: slipping rapidly from one group to the other, rising up on tiptoes, bouncing as his fingers dance along the chapel piano keys. Watching Brunelle, it occurs to me that if you could see what a song looks like, Philip Brunelle would be one of those landmarks you can observe from space, as big as the Great Wall or the Grand Canyon, a pinpoint of a man from which a geyser of hallelujahs and hosannas pour forth, and keep on pouring.
---
Singalong
Minnesota supports more than 100 independent choirs, in addition to thousands of church, school, and youth choirs. But what about the more casual singer looking for a way to hum along?
Loring Park Singalong
Led by another local legend, Dan Chouinard, Loring Park Singalong meets in the Loring Park pavilion on the third Tuesday of most months. Find details on the group's Facebook page.
Minnesota Chorale
Minnesota's preeminent symphonic chorus holds a few singalongs for the public every year, if you've ever wondered what you'd sound like accompanied by an oboe. mnchorale.org
Sea Shanties!
The second Monday of the month is when St. Paul's Dubliner hosts public sea-shanty singing—seriously! Go, grab a pint, and start learning to sing like a pirate. Cutlass and parrot optional. thedublinerpub.com
Shape Note Singing
An a cappella group that welcomes all comers, Freude practices shape-note singing—a sort of shorthand musical notation. The group meets a few times a week, with an all-day sing on July 7. freude.com/fasola
Beer Choir Twin Cities
Amateurs and craft-brew fans can meet with this fun crew at various breweries. More details at its Facebook page.
Giant Sing Along
Every year at the Minnesota State Fair, the Giant Sing Along takes place, with as many as 50,000 voices coming together in one song, agreed upon in advance. mnstatefair.org