Keillor and VocalEssence serve up a wistfully funny feast
By Rob Hubbard
Special to the Pioneer Press, November 23, 2010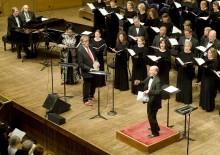 Garrison Keillor is aging quite gracefully. The host of the popular radio revue, "A Prairie Home Companion," seems to be sliding comfortably into the role of sage elder. He still waxes humorous on his seemingly stream-of-consciousness stories, but now offers wistful recurring encouragement to enjoy your life and those around you.
That was the underlying theme of "Gratitude, Gravy & Garrison," a VocalEssence presentation at Minneapolis' Orchestra Hall on Tuesday night. While ostensibly a choral concert by conductor Philip Brunelle and the choirs of VocalEssence, it was quickly clear that it would be built around the "Prairie Home" template. But it was actually a greater success than most recent "Prairie Home" shows, perhaps because its focus was so consistent.
And that focus was Thanksgiving. Although Keillor has connected up with Brunelle and the choirs for similarly themed shows in the past, he seemed particularly inspired for this go-round. Keillor brought a cornucopia of clever material to the program, taking such topics as getting to the family dinner and contemplating why we live in Minnesota, and making them the stuff of grand opera and Handel-esque oratorios.
Rather than have an extended "News from Lake Wobegon" monologue, Keillor wove his words around the music, using the making of a homemade pie as a kind of carpe diem exhortation. Serving up his advice and opinions in bite-sized segments worked quite well, especially when wrapped around the sweet duets he shared with singer Jearlyn Steele or the transporting tunes delivered by the VocalEssence Chorus.
Two of the latter were world premieres from California composer Matthew Brown. He was commissioned to create two works that bore Keillor's stamp. One used for its text Keillor's "Table Grace," which sounded like a simple hymn before building to a full-voiced yet ethereal conclusion.
Keillor also chose the text for Brown's other new work: "Sole Watchman of the Flying Stars" by John Berryman, one of Minnesota's (and, arguably, America's) greatest poets. Berryman was a tortured soul, and the poem is disarmingly intimate about the demons he battled. It's served well by Brown's music, which seems to take us inside the poet's conflicted mind by having a small choir chop up the text and scatter it alongside the larger choir's more straightforward delivery.
Tuesday's performance will be broadcast at 8 p.m. tonight on KSJN, 99.5 FM, and repeated on Thursday morning at 9 a.m. on KNOW, 91.1 FM. So you can listen while preparing your part of the feast.
Rob Hubbard can be reached at rhubbard@pioneerpress.com.