MinnPost: Onstage with the Rolling Stones: Talking with Philip Brunelle of VocalEssence
By Pamela Espeland | 06/04/15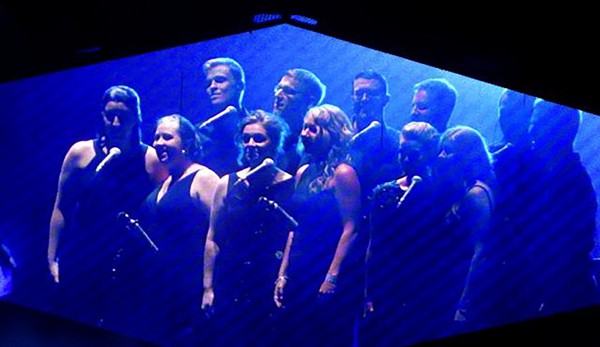 Philip Brunelle has rubbed elbows, figuratively speaking, with a lot of greats. Not long after founding VocalEssence in 1969, he called Aaron Copland and invited him to Minnesota to conduct a performance of his choral music. Surprised and delighted – he was always asked to conduct his symphonies, but never his choral music – Copland told Brunelle, "Tell me the date and I'll cancel what I'm doing and be there."
Then there was the year (1996) ABBA came to hear VocalEssence perform the concert version of their musical "Kristina." And the time (1994) James Earl Jones narrated "Frederick's Fables" for a WITNESS concert. Dave Brubeck arrived in 1973 for the Midwest premiere of his composition "To Hope: A Celebration." And His Royal Highness Crown Prince Haakon of Norway attended the 2005 VocalEssence performance of "Peer Gynt."
But none of those events took place before a live audience of 50,000 people, with Mick Jagger strutting his stuff just a few feet away.
In case you haven't heard, the Stones tapped VocalEssence to join them on stage last night at TCF Stadium for one song, "You Can't Always Get What You Want." Everyone – Brunelle, the VocalEssence singers, Mick and the band – got exactly what they wanted. We spoke with Brunelle earlier today.
MinnPost: Did you have fun?
Philip Brunelle: We had a wonderful time. Mick and the others couldn't be nicer. Very friendly, very appreciative of the singing. We had a dress rehearsal and sound check with them, went through it once and they went, "Wow! We don't need to do any more. This is fantastic." They were very, very happy.
MP: You had six weeks' notice that this would happen. How did you prepare?
PB: First I had to figure out who was available to sing. When the music came, I sent it to everybody, and we had a couple rehearsals together in the days before, with everyone arriving memorized. That was part of the deal.
Yesterday we arrived [at TCF Stadium] in the early afternoon. With anything like this, it's hurry up and wait. Then we had a little choreography session about how they wanted us to move, then we went back and waited a bit, then the group arrived and we did the sound check with the Rolling Stones.
That was a great thrill for the singers. We'd always heard about these people, and now we actually were seeing them. They were just a few feet away.
MP: Did you talk with them?
PB: Just a little. I spoke to Mick before the sound check. He came over to thank everyone, and I said, "By the way, Mick, we are the same age and have the same birthday month." He said, "No!" I said, "It's a little something we have in common. I don't do the jumping jacks that you do, but I run in the mornings."
It really is amazing, to see him for two hours nonstop up there, watching him just go. You only can do that because you train and stay in shape. It's like singing. You can't say, "I haven't sung for three months, I'll just immediately come forth." It won't happen.