Pioneer Press: VocalEssence CD has Minnesota-made music – from Libby Larsen to Dylan to Owl City
http://www.twincities.com/stage/ci_19265071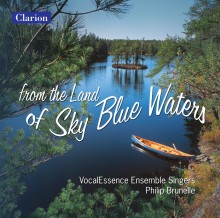 By Rob Hubbard
Special to the Pioneer Press
Updated: 11/04/2011 12:52:54 PM CDT
Looking for the ideal gift for the fiercely proud Minnesotan? Perhaps a smorgasbord of the state's many musical treasures would be the ticket. Well, VocalEssence is here to help.
The state's foremost choral ambassadors have just released a CD that lends their lush, full-voiced sound to an expansive variety of Minnesota-made music. It's called "From the Land of Sky Blue Waters," and features works by many of the state's most prominent composers – like Dominick Argento, Libby Larsen and Stephen Paulus – but also medleys that offer nods to such Gopher State products as Judy Garland, Bob Dylan, Prince, Owl City and Semisonic.
Conductor Philip Brunelle leads the VocalEssence Ensemble Singers on the new Clarion Records disc, which is available at vocalessence.org. That's where you can also get tickets to their 4 p.m. Sunday concert at St. Paul's Fitzgerald Theater, which concludes a Minnesota tour and features much of the music on the new CD.
And in case the title makes you wonder: Yes, it does have that Hamm's Beer jingle of the 1960s.