Red Current: Mexican Melodies: Jean Angelus Pichardo Teams With VocalEssence to Bring Cantaré! to Life
Jean persisted in his lessons, and he soon learned the basics. By the time he was 14, however, his practice time became filled with distractions—but not the kind you might think. While he would practice his pieces, he would hear a new melody and follow where it led him. It got so bad that when Jean would go to lessons, he had to admit to not finishing his assignment.
"No, I didn't finish my lessons," he would say, "but listen to what I did do instead."
His instructor quickly saw Jean's potential and encouraged his pursuits. It was around this time when Jean became certain he wanted to spend his life creating melodies. His family, however, did not think music was a practical career choice.
At age 18, Jean began studying law at Mexico's most prestigious school,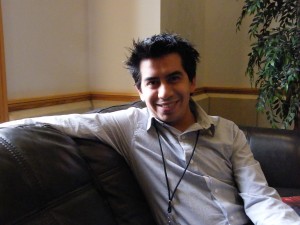 Universidad Nacional Autonoma de Mexico (UNAM). When Jean registered for classes, he saw he had free time in the afternoon. With just an hour break between classes, Jean decided to fill his mornings studying law and his afternoons and evenings studying music at the National School of Music—which was contained within the UNAM academic ecosystem.
No one in his family knew of this pursuit except his mother.
It took two years for Jean to confess to his father that he had been studying music. When his father asked where he was studying, Jean told him at UNAM. To convince his father, they took a tour of the school.
It worked.
His father, sensing his son wasn't going to give up on this music dream, gave Jean his blessing to devote all his time to his musical studies.
Lasting Love
It was through Jean that his mother discovered her own love of choral music. She died this past May from cancer, and she had one final wish for Jean.
"Please compose a choral piece reflecting me in a new world."  He also wanted to compose a piece for children since his mother loved listening to childen's choirs.
Until now, he had never composed a children's choral arrangement. These Cantare`!  pieces are a tribute to his mother.
He hopes she is listening.
Mexico to Minneapolis
VocalEssence—directed and led by Philip Brunelle—is dedicated to engaging people of all ages and cultures in the Twin Cities area through innovative, enticing choral music programming. Each year, VocalEssence invites students from metro schools to participate in a pair of programs designed to enrich their cultural understanding: WITNESS, to celebrate African American culture, and Cantare`! to celebrate Mexican culture.
Now in its seventh year, Cantare`! has been a smashing success. Much of the credit for that success must be given to the composers in residence. This year one of those composers is Jean Angelus Pichardo.