Review: Jazz and mariachi flavors lift this choral Christmas
By Rob Hubbard
Special to the Pioneer Press
Jazz pianist and composer
Dave Brubeck
had a style all his own, but within it you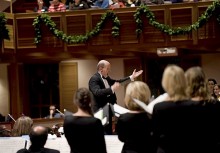 could hear a
wealth of influences. For example, when writing a Christmas cantata, he
hearkened back to his youth on a California ranch and the traditional
Mexican folk music performed by friends and neighbors.
Brubeck was a friend and honorary board member of
Minneapolis-based choral organization VocalEssence. So it's appropriate
that — a year after his death at age 92 — the group should offer him
homage by making that cantata the main event at its annual "Welcome
Christmas" concerts this year. It proved an emotionally eloquent tribute
at the first performance of the program Saturday evening at
Stillwater's Trinity Lutheran Church, one that blended Brubeck's jazz
harmonies and quirky syncopated rhythms with a healthy dollop of Mexican
mariachi music.
Joined by local band Mariachi Mi Tierra and versatile pianist Dan
Chouinard, conductor Philip Brunelle and the singers of VocalEssence
turned "La Fiesta de la Posada" into the most ambitious and enjoyable
offering it has presented at any of its recent holiday concerts. It made
up the first half of the concert but could just as easily have been a
stirring finale. On a propulsive "Gloria," the mariachi band and choir
seemed cylinders in the same chugging engine, subsequently sizzling
through a kind of tango lullaby, "Sleep, Holy Infant, Sleep." Concluding
with an electrifying finale in 5/4 time, it was a thrilling
performance. And Chouinard deserves special praise for summoning up
Brubeck's spirit on a series of improvised piano interludes.
What with a jazz legend represented on the program, it's
understandable that Brunelle chose to break out some arrangements of
traditional carols with jazz flavors, such as a swinging "Go Tell It on
the Mountain" and a swooping, soaring "Deck the Halls." But the most
arresting work of the concert's second half was Susan LaBarr's haunting
arrangement of an American Indian carol, "Iesus Annattonnia." It bore a
tone of minor-key mystery quite unlike anything else on the program.
Among two new carols premiered, William Malpede's rollicking
"Sound Over All Waters" was the standout. And, for those seeking calming
choral harmonies, the choir's delicate delivery of "Still, Still,
Still" provided plenty.
Rob Hubbard can be reached at rhubbard@pioneerpress.com.
Who: The VocalEssence Chorus and Ensemble Singers with conductor Philip Brunelle, pianist Dan Chouinard and Mariachi Mi Tierra
What: "Welcome Christmas"
When and where: 4 p.m. Sunday and Dec. 15, Plymouth
Congregational Church, 1919 LaSalle Ave., Minneapolis; 7:30 p.m. Friday,
Shepherd of the Valley Lutheran Church, 12650 Johnny Cake Ridge Road,
Apple Valley; 7:30 p.m. Saturday, Colonial Church of Edina, 6200
Colonial Way, Edina
Tickets: $40-$20, available at 612-371-5656 or vocalessence.org
Capsule: A jazz-flavored choral Christmas.