Star Tribune: Carols are key in two holiday songfests
VocalEssence and The Singers each present multiple concerts featuring old and new holiday songs.
By WILLIAM RANDALL BEARD, Special to the Star Tribune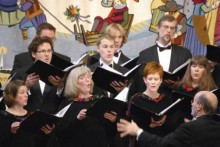 This time of year brings an abundance of choral activity, organizations vying to take advantage of all the holiday spirit. This weekend, two go head-to-head: the veteran VocalEssence, presenting "Welcome Christmas," and the relative newcomer, The Singers – Minnesota Choral Artists, performing "What Sweeter Music." Both were exemplary. VocalEssence's larger forces sang with clarity and precision. The Singers have a less voluptuous sound, but theirs is a crystalline one, equally warm and rich. These were very different experiences, reflective of the personalities of their directors.
Showman Philip Brunelle of VocalEssence provides comic patter. His was a lighter program, dominated by carols. The Twin Cities Bronze handbell choir added to the festivities.
Brunelle is also a prankster. He programmed the five carols that his subscribers voted as favorites, but where they picked "What Child Is This?" expecting "Greensleeves," the chorus performed a setting by Paul Lohman. (It made a nice alternative.)
The Singers' Matthew Culloton has a shy, more reserved podium presence. He inspires a gentler utterance from his choir. This perfectly suited his more serious program, including the somber and haunting "Magnificat" of Arvo Pärt. Morten Lauridsen's "Ave Maria," with its soaring melodic lines and robust harmonies, was more emotionally accessible.
An "Ave Maria" by Austrian Franz Biebl showed off VocalEssence's serious side. Its melodies, based in ancient chant but with modern harmonics, were striking. They did a number of mostly contemporary Swedish carols that were enjoyably familiar, demonstrating how choral sound has gone global.
The Singers also demonstrated Culloton's lighter side: "The Christmas Song" and "I'll Be Home for Christmas," done in quintessential 1950s arrangements, were playful and great fun.
These were followed by his own world-premiere arrangement of "Angels We Have Heard on High" that was so harmonically complex it overwhelmed the carol. VocalEssence fell into that same trap, performing an overly complicated version of "Lo, How a Rose E'er Blooming."
Both choruses have a commitment to new music. VocalEssence premiered the winners of its annual carol contest. Neither was particularly memorable. More striking was The Singers' premiere of "Daughter Ecstatic" by Joshua Shank, based on the soprano aria "Rejoice greatly" from "Messiah." His contemporary harmonies brought Handel's florid writing into the 21st century.
William Randall Beard writes regularly about music.