Star Tribune: Cuban chorus offers diverse and beautiful music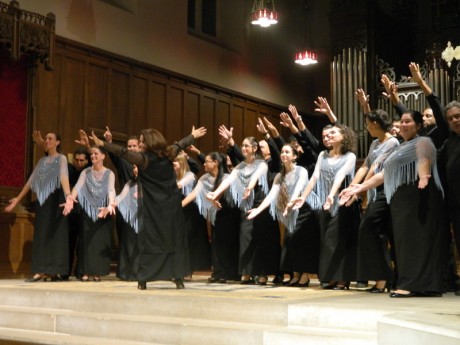 November 12, 2012
By William Randall Beard, Special to the Star Tribune
For almost 20 years, Schola Cantorum Coralina has been the one of the foremost choruses in Cuba. The 20-member ensemble is on its first-ever U.S. tour, performing here under the auspices of VocalEssence. Their program, "An Evening in Havana," naturally focused on contemporary Cuban music, but also featured music from Argentina, Brazil, Philippines, Spain, and beyond.
The chorus rehearses for three hours a night, four nights a week, under its passionate conductor Alina Orraca. And that commitment shows in the performances. From the resonant, rumbling basses to the delicate, crystalline sopranos, even to the top of their range, they blended into a robust, sensuous sound.
Coralina receives financial support from the government, paying each member a part-time salary. As part of their job, members lead three children's choruses, for ages 3 to 15, to instill the love of music.
The program opened with a set of religious pieces, sung in Latin, and rooted in classical traditions. From Yaniel Fernaìndez, a veteran of Carolina, came an "Ave Maria" that blended a contemporary melody arranged with medieval-sounding harmonies into a luscious whole.
Argentinian Alberto Ginastera's "O vos omnes" exemplified of modern polyphony, while Filipino Ryan Cayabyab's Sanctus was rooted in minimalism.Demonstrating its musical diversity, Coralina performed Morton Lauridsen's "O magnum Mysterium," rooted in American hymnody, sung perfectly idiomatically. That was also true of a 17th century "Salve Regina" from Spain and a medieval chant.
The rest of the program was contemporary secular music, where the line between classical and pop was especially fine. This was either classical music based on popular tunes or popular music embodying classical techniques.
For these selections, Carolina performed with a movement-based style. In songs based on the mambo, samba and tango, they employed choreography that had chorus breaking out in dance. This was all the while they masterfully sang complex polyrhythms and dense harmonies.
There were lush arrangements of 30s pop songs, straightforward Latin ballads and radio-ready melodies sung with wit and a sense of fun. There were interesting techniques, like Guido Lopez Gavilan's "Guayaboso (Liar)" that used the voices as instruments and Fernaìndez's "Afrorritmos" that celebrated the Afro-Cuban musical culture.
Every element of the evening was executed flawlessly, making for one of the most exciting concert experiences of the year.
William Randall Beard writes about music.