Star Tribune: Rufus Wainwright solo show in St. Paul gets world premiere with VocalEssence
Posted by: Jon Bream
Updated: April 14, 2013 – 4:47 PM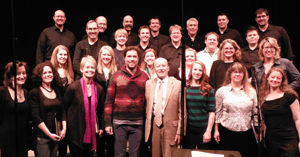 A full house of 1,000 people went to see a solo Rufus Wainwright Saturday night at the Fitzgerald Theater and a VocalEssence concert broke out.
A world premiere, no less. Unadvertised. Written by Wainwright.
He explained that he'd composed "Bloom" as a five-movement piece for a dance by New York's Stephen Petronio Company.
Wainwright sang all the vocal parts himself for a recording that
accompanied the dance performances. So the Fitzgerald performance was a
world premiere for "Bloom" delivered live by a choral group.
Using words from one Emily Dickinson and two Walt Whitman poems, the 20-some-minute piece also included some humming. VocalEssence, under the direction of Philip Brunelle, did a splendid job of presenting the work while Wainwright sat off in the wings.
But "Bloom" didn't connect with every Wainwright fan. After the
concert, I overheard a couple debating about the choral number; she
didn't like it and he was wowed by the VocalEssence's prowess.
In any case, the inclusion of "Bloom" cut into beloved cult figure
Wainwright's time in this solo concert. We didn't get anything from his Judy Garland repertoire or anything by his father (Loudon Wainwright III) but we did get a song by his mother (the late Kate McGarrigle), "Hallelujah" (the Leonard Cohen standard that Rufus recorded for the movie "Shrek") and his classic "Cigarettes and Chocolate Milk."
The two-set, 1 ¾-hour concert was quite different from Wainwright's
show with a band last summer at the Minnesota Zoo. This one lacked the
depth, range and showmanship. But not the humor.
The French Canadian/American Wainwright, 39, was his usual chatty,
catty self – which the crowd loved. After many performances in
Minneapolis (where he once lived for a bit), he said this was his first
show ever in St. Paul.
"I've always liked Minneapolis," he said, sitting at the grand piano.
"I really like St. Paul for some reason. There is something about St.
Paul. There's a kind of nothingness about it. They don't try to hide.
They don't have to."
Before he put his foot in his mouth, he also praised Hymie's
Haberdashery,the downtown St. Paul shop where he bought the new shoes he
was wearing.
Since he was at the Fitzgerald, the house that Garrison Keillor rebuilt,
Wainwright also prattled on about "A Prairie Home Companion," on which
his mother had performed (and loved it) and his dad hadn't received a
"PHC" invite (so he wrote something to that effect on a Fitzgerald
dressing room mirror). Rufus, too, bemoaned that he hasn't been on the
famous radio show, either.
Wainwright also talked about disliking Jeff Buckley (because
of their rival versions of "Hallelujah") until they met for a night of
drinking in New York. Buckley drowned a few weeks later and Wainwright
wrote "Memphis Skyline" about him. That number, which segued into
"Hallelujah," was a highlight of Saturday's show.
Throughout the evening, Wainwright's musical talents were on full
display as he threw in elements of different styles – with an emphasis
on cabaret, classical, opera, Broadway, jazz and pop. With his backup
band at the zoo, he'd also incorporated other styles, including disco,
tango and ABBA, that weren't heard in this solo effort, with Wainwright playing mostly grand piano but also some acoustic guitar.
Part of Saturday's concert will be broadcast at 9 p.m. May 22 on 89.3
the Current, along with a pre-concert interview Wainwright did with
Current DJ Mary Lucia.
Here is Saturday's set list:
Set 1: Art Teacher/ The Maker Makes/ Vibrate/ Out of the Game/ Jericho/ Who Are You New York/ Memphis Skyline > Hallelujah
Set 2: Bloom (performed by VocalEssence)/ Going to a Town/ Montauk/
Zebulon/ Cigarettes and Chocolate Milk ENCORE Millbrook/ The Walking
Song (Kate McGarrigle)/ a song in French / Foolish Love