Star Tribune: Two choirs offer songs of the holiday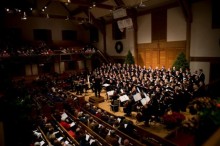 From carols to a Stephen Paulus oratorio and much in-between, VocalEssence and The Singers ignite the season in song.
By WILLIAM RANDALL BEARD
, Special to the Star Tribune

Updated: December 5, 2011
The Singers, with "What Sweeter Music," and VocalEssence,
with "Welcome Christmas," have long-established traditions of festive
holiday concerts. One can take for granted great music making from both
organizations, though the experiences are very different. The Singers is
a chamber choir singing a cappella, VocalEssence, a massed choir with
orchestral accompaniment.
The major work on the VocalEssence program was Stephen Paulus'
oratorio, "So Hallow'd Is the Time." Structured on the "Messiah" model,
it has no strict narrative, but weaves texts, here by writers from the
Middle Ages to the 17th century, including Shakespeare, Milton and
Donne, into a telling of the Nativity story.
From movements of great drama for massed choir to a gentle lullaby
for mother and child (with a boy soprano Jesus), this is a work full of
striking and deeply moving moments. Philip Brunelle,
who led one of the first performances following its 1980 premiere,
conducted it here as a work of faith, finding a deep spirituality in
Paulus' evocative melodies. The chorus responded with a robust and
committed reading.
The highlight of The Singers' program was Poulenc's "Quatre motets
pour le temp de Noel." From hushed expressions of divine mysteries to
unfettered fortes of joy, the chorus and conductor Matthew Culloton gave the Latin motets a truly liturgical feel, capturing Poulenc's contemporary yet antique sound.
VocalEssence focused on French carols, divided between the 45-member
Ensemble Singers and full Chorus. There were familiar carols, some of
surprisingly French origins, like "Angels We Have Heard on High," "O
Holy Night" and "Ding Dong! Merrily On High," plus unfamiliar ones well
worth discovering, all given sparkling performances.
The Singers presented a more international repertoire, including
music of Scandinavia and English carols by such British masters as
William Walton, Benjamin Britten and John Rutter. These were followed by
several American carols, from a rousing performance of an 18th-century
one by William Billings to a touching rendition of "The Cherry Tree
Carol," a Kentucky ballad. The evening was bookended by traditional
carols, a couple of which were overarranged, losing the simplicity of
the original.
Brunelle invited the audience to sing-a-long on a couple of carols,
something that would have seemed out of place in The Singers' more
formal atmosphere. But both concerts created enjoyable experiences.
Photo by Stephen Maturen for VocalEssence.