VocalEssence Holiday Music to Air on Minnesota Public Radio; distributed by American Public Media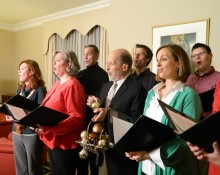 (Minneapolis—November 17, 2011) Concerts from the
2010-2011 VocalEssence Season are slated for broadcast on Classical MPR and
nationally via APM during this holiday season.
Welcome Christmas, hosted by John Birge, features
selections from the 2010 Welcome Christmas concerts at Plymouth Congregational
Church in Minneapolis. Twin Cities Bronze rang handbells to help the VocalEssence
Chorus & Ensemble Singers welcome the holiday season. New carols for chorus
and handbells, the winners of the annual Welcome Christmas carol contest, will
be premiered in this broadcast. Locally, "Welcome Christmas" is scheduled for
broadcast on Classical Minnesota Public Radio on December 14th at 7pm and on
Christmas Day at 5pm. Visit Classical MPR for more information.
"Gratitude, Gravy & Garrison" aired at 12 pm noon on
Thanksgiving Day (Thursday, November 24) on the Classical MPR network (99.5 FM
in the Twin Cities). Storyteller Garrison Keillor and conductor Philip Brunelle
lead a harmonious celebration of all things Thanksgiving with the melodious
voices of the VocalEssence Chorus & Ensemble Singers and their special
guests, singer Jearlyn Steele and pianist Richard Dworsky. Along the way we
learn that Thanksgiving really isn't all about the turkey — it's actually all
about the pie.
Philip Brunelle and 12 members of the Ensemble Singers were the guests on
Midmorning with Kerri Miller (MPR News, 91.1 FM) on Thursday, December 1 – sharing
some of the wackiest carols of the season! The show is archived on www.mpr.org so you can listen at any time via the internet.
For more information, contact Katryn Conlin, communications
manager at 612-547-1457 (kconlin@vocalessence.org).
###