VocalEssence marks 50th season with greatest hits and a big show with Theater Latté Da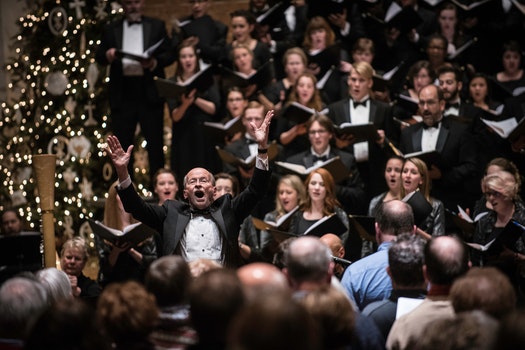 ANALYSIS: VocalEssence's anniversary season is full of retrospectives, co-presentations and a strong commitment to diversity.
It's been 50 years since an ambitious young Minnesotan named Philip Brunelle was appointed organist and choirmaster at Minneapolis' Plymouth Congregational Church.
One of his first big decisions was expanding the church's community music program, giving birth to the Plymouth Music Series. The group quickly gained international prominence thanks to its acclaimed recordings of choral and operatic pieces.
Half a century later, Brunelle's music program — now known as VocalEssence — is still going strong. The organization just announced details for its 2018-19 season, its 50th in the choral business.
Unsurprisingly, there's a strong retrospective element, not least in the showcase 50th anniversary concert (Oct. 7). "In the Beginning," Aaron Copland's unaccompanied work for choir and soloist, is a key work on the program — not only because the title is appropriate for the occasion. Its inclusion also marks one of Brunelle's earliest coups, when he tempted Copland to come to Minneapolis in 1970 to lead a concert of the composer's own choral music. Twin Cities mezzo-soprano Clara Osowski will be the soloist. A former member of Vocal­Essence, she returns to the group as an award-winning recital artist with a blossoming solo career.
Also on the 50th anniversary program are excerpts from Benjamin Britten's "Paul Bunyan." This piece, too, plays a key role in VocalEssence history. The Plymouth Music Series' 1987 recording was the first of the complete operetta, and it established the ensemble's global reputation.
Exciting collaborations
In addition to looking back, the 2018-19 season looks to the future, forging connections with new artists and organizations.
The most exciting development is a co-presentation of Leonard Bernstein's sparkling "Candide" with Minneapolis-based Theater Latté Da (March 21-24, 2019). Latté Da artistic director Peter Rothstein directs this semi-staged production, representing the two organizations' first large-scale project together. Singers Rodolfo Nieto, Liv Redpath and Bradley Greenwald lead a cast that includes the Vocal­Essence Ensemble Singers, with a cameo appearance by VocalEssence associate conductor G. Phillip Shoultz III.
Another collaboration brings the VocalEssence Chorus and Ensemble Singers — 150 voices in total — together with the 75-member St. Olaf Choir (Oct. 28). Choirs from the two organizations will perform separately and together, combining for Vaughan Williams' resonant Mass in G minor. Written for double choir — two groups of singers with four voice-parts in each group — the mass should make a vivid impression in the imposing Cathedral of St. Paul.
Next comes a choir from further afield, the Spelman College Glee Club from Atlanta (Feb. 24, 2019). Spelman is a historically black college for women. Its choir joins VocalEssence for a joint program called "Yet They Persist," focusing on the contributions of African-American women to social change and equality.
New music, new initiatives
VocalEssence has commissioned more than 130 works during the past five decades, and its commitment to new music is strongly represented in the new season.
The annual "Welcome Christmas" program will be graced by a piece by the acclaimed American composer Nico Muhly (Dec. 1-9). The concert also features works premiered at Vocal­Essence Christmas concerts through the decades, plus two brand-new carols by winners of the choir's 21st annual Christmas carol contest.
VocalEssence co-commissioned Steve Hackman's "The Times They Are A-Changin': The Words and Music of Bob Dylan" to honor the singer's 2016 Nobel Prize in literature (April 27, 2019). This Midwest premiere is a sequence of beloved Dylan songs arranged for choir, including "Blowin' in the Wind," "Like a Rolling Stone" and "Subterranean Homesick Blues."
The 2018-19 season brings a new family series, featuring free admission for those age 17 and under. Concerts include "Star of Wonder," a Christmas singalong and craft-making event at the Minneapolis Institute of Art (Dec. 8), and the inaugural performance by VocalEssence's Singers of This Age, a new youth choir aiming for a diverse membership (Nov. 8).
Singers of This Age returns later in the season to lead a "Frozen" singalong at the American Swedish Institute in Minneapolis, inviting adults and children alike to dress up as their favorite characters from the Disney blockbuster (Feb. 2, 2019). Three more community singing events are planned for the Come Together in Song series, including a "Wizard of Oz" evening at the Lake Harriet Band Shell (August 31) in Minneapolis.
Overall, the 2018-19 season makes for a vibrant mix of concerts, collaborations and special initiatives aimed at fostering diversity — in the choir's membership and its audience base.
During the past half century, half a million people have heard VocalEssence performing at venues around the world, while more than 180,000 have participated in the organization's community programs. With the apparently indefatigable Brunelle still onboard as artistic director, it looks like these formidable statistics will edge even higher as VocalEssence embarks upon another 50 years of music-making.
Terry Blain is a freelance classical music critic for the Star Tribune. Reach him at artsblain@gmail.com.