VocalEssence on tour in Mexico; Peter Lorre series at the Trylon
By Pamela Espeland | 10:05 am
August 31, 2018
https://www.minnpost.com/artscape/2018/08/vocalessence-on-tour-in-mexico-peter-lorre-series-at-the-trylon/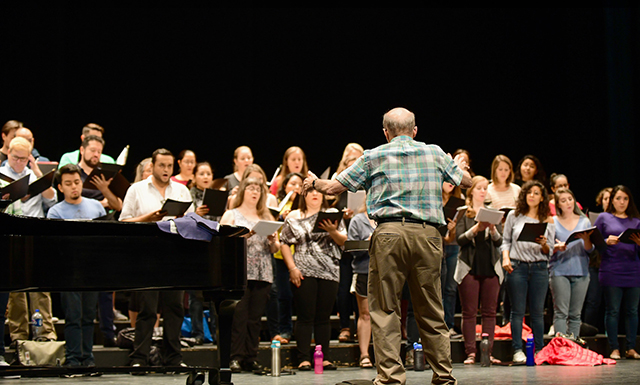 The news about U.S.-Mexico relations continues to seesaw. After threats, tariffs and retaliatory tariffs, there's a new free-trade deal in the works. There's endless talk about a border wall and who will or won't pay for it. ICE raids keep netting Mexican nationals.
But this week, at least, Americans and Mexicans are strengthening a bond that reaches back more than 10 years. Face-to-face, voice-to-voice, through the universal medium of music, they're finding common ground and shared joy. So are concert audiences.
In 2008, Philip Brunelle and VocalEssence launched the ¡Cantaré! program. (Translation: "I will sing!") It was founded partly because Brunelle wanted to know more about Mexican choral music, but also in response to Minnesota's changing demographics. Brunelle saw a need for culturally relevant arts programming and education for Minnesota's growing Latino community, and an opportunity to build cross-cultural understanding.
VocalEssence started bringing composers from Mexico to Twin Cities schools as artists-in-residence, working closely with students and teachers. Each year's ¡Cantaré! ends in May with a community concert of world premieres at the Ordway.
To date, more than 5,000 students from 57 elementary schools, high schools and colleges have taken part in the program. Nearly 175 new choral works by 20 composers have premiered. In recent years, ¡Cantaré! has expanded beyond Minnesota to Chicago.
Earlier this year, Brunelle and the VocalEssence Ensemble Singers were invited to tour Mexico with the Orquesta Sinfónica de Minería (OSM). The occasion: a joint celebration of OSM's 40th anniversary and VocalEssence's 50th season. The singers left for Mexico City on Aug. 26.
OSM is made up of top players from regional symphony and opera orchestras that don't perform during the summer. Led by Carlos Miguel Prieto, music director of the Mexican National Symphony and the Louisiana Philharmonic in New Orleans, it's an all-star ensemble and an avid commissioner of new works, a trait it shares with Brunelle and VocalEssence.
This summer, OSM will present all of Beethoven's symphonies including the Ninth with its final choral movement, "Ode to Joy." That's where VocalEssence comes in. The Ensemble Singers will also perform a Brahms motet, conducted by Brunelle, where they're being joined by an equal number of professional Mexican singers.
OSM will present the Ninth three times: tonight (Aug. 31) at the Bellas Artes in Mexico City, and again Saturday and Sunday at the famed Sala Nezahualcoyotl, also in Mexico City.
On Tuesday, VocalEssence gave a solo concert of American spirituals, folk songs, and classical works – and two ¡Cantaré! songs – in the Auditorio Blas Galindo. Thursday was a day-long choral festival with choirs from the National University of Mexico (UNAM), the oldest institution of higher learning in the Americas. You can visit their Facebook to see where they've been and what they've been up to.
As Brunelle noted in an email to MinnPost, "It was very moving to be mixed together with the Mexican singers, rehearsing the music. … This week is what we need to bring our countries together, not apart."
The Ensemble Singers will return to Minnesota on Sept. 3. Meanwhile, on Aug. 31, VocalEssence will present a free family sing-along at Lake Harriet. See the picks for deets.
The picks
Starts today (Friday, Aug. 31) at the Film Society's St. Anthony Main Theatre: "The Miseducation of Cameron Post." Caught with another girl in the back seat of a car on prom night, Cameron Post (Chloë Grace Moretz) is sent to a gay conversion therapy center. Based on the novel by Emily M. Danforth, writer/director Desiree Akhavan's coming-of-age film won the 2018 Sundance Grand Jury Prize. FMI including trailer, times and tickets.
Starts tonight at the Trylon: The Malice and Vulnerability of Peter Lorre. Best-ever title for a Peter Lorre film series. Somehow Lorre made you want to run screaming in the opposite direction and hug him at the same time. Well, maybe not hug him, but even as the child killer in Fritz Lang's "M," Lorre managed to remain sympathetic. For five weekends starting tonight, the Trylon will screen films that remind us of what a master he was. Aug. 31-Sept. 2: "The Maltese Falcon." Sept. 7-9: "Arsenic and Old Lace." Sept. 14-16: "Mad Love" (the one where the mad doctor replaces the hands of a pianist with those of a knife-throwing killer). Sept. 21-23: "Beat the Devil." Sept. 28-30: "M." FMI, times and tickets ($8).
Tonight (Friday, Aug. 31) at Lake Harriet Bandshell: "The Wizard of Oz Movie Sing-Along." VocalEssence will host a community sing followed by a screening of the beloved film. Starting at 7:30 p.m., associate conductor G. Phillip Shoultz III will lead the crowd and a trio of musicians – Jerry Rubino on piano, Alex Maiers on guitar, Becky Gaunt on fiddle and mandolin – in a program of familiar and favorite songs. After sunset, you can sing along to "The Wizard of Oz." Free. Dress in costume, bring the kids – and the little dog, too.
Saturday at the Walker: Free First Saturday: Sculpture Garden Shindig. It's a day of family fun in the Garden, plus free admission to the Walker galleries. Make colorful pinwheels in the Cowles Pavilion beneath Daniel Buren's "Voile/Toile—Toile/Voile" sails; learn to play the ukulele; dance to vinyl spun by DJ Frank Lyon; create a communal paint-by-number design with the Native Youth Arts Collective and Caroline Karanja. And/or go indoors for free kids' films. 10 a.m.-3 p.m. Free.
Tuesday at the Amsterdam: Books & Bars: Frank Herbert's "Dune." There's still time to read the book between now and then. Or catch the extremely weird David Lynch movie version, which we happen to think is worth seeing even if the critics mostly trashed it. (Patrick Stewart is in it. So is Sting.) "Dune" is one of the all-time great science fiction novels, the first book in what's often called the "Lord of the Rings" of SF. Set in a far future, it's about politics, ecology, warring noble houses ("Game of Thrones"?), science, mysticism, sandworms and spice, a drug needed for interstellar travel. Jeff Kanin will moderate, and there's a full bar. Doors at 5 p.m., discussion at 6;15. Also Tuesday, Sept.11 at Moon Palace. 6 p.m. doors, 7 p.m. discussion.
Have a great Labor Day! Artscape will return on Wednesday, Sept. 5.