VocalEssence plans imaginative 50th-anniversary season; 23rd Annual Art-A-Whirl in northeast
By Pamela Espeland | 08:32 am
https://www.minnpost.com/artscape/2018/05/vocalessence-plans-imaginative-50th-anniversary-season-23rd-annual-art-whirl-northe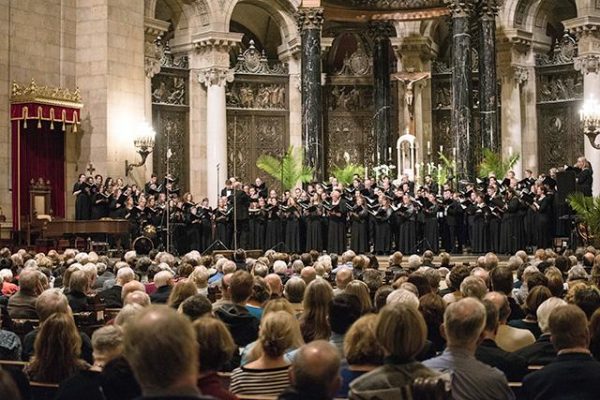 If you saw yesterday's Artscape and Theater Latté Da's season announcement, you already know part of VocalEssence's big 50th-anniversary reveal: a collaboration with Latté Da.
But that's the tip of the iceberg (this is the North, after all) of a truly astonishing, wildly imaginative season.
Before we get into that, a brief history: In 2015, VocalEssence sang "You Can't Always Get What You Want" with the Rolling Stones. Mick liked them.
Oh, all right, a few more details: Founded in 1969 by Philip Brunelle as the Plymouth Music Series, a community music program of Plymouth Congregational Church (still its home), renamed in 2002, VocalEssence has sung almost everything with nearly everyone virtually everywhere. Committed to performing music by today's composers, it has commissioned and premiered hundreds of new works. In the land of 10,000 choruses, it is a global presence.
VocalEssence has released more than 20 recordings and won tons of awards. Brunelle is a Commander of the Royal Norwegian Order of Merit and an Honorary Member of the Order of the British Empire. Along with performing at concerts and events, VocalEssence has school programs, programs for older adults and a music publishing company.
Here's what's planned for 2018-19, the end of its first half-century.
First, a concert series. A 50th Anniversary Concert on Oct. 7 at the Ordway Concert Hall will feature Dessa, Bradley Greenwald, Maria Jette, Clara Osowski, Don Shelby, Vern Sutton and Pop Wagner as guests, an impressive Who's Who. It will open with Aaron Copland's "In the Beginning" and feature several audience favorites. The Copland looks back 50 years to when upstart Brunelle invited the legendary composer to Minneapolis for a concert of his rarely heard choral works. Copland came.
On Oct. 28, the St. Olaf Choir will join VocalEssence for Music for a Grand Cathedral, a performance of Vaughan Williams' "Mass in G minor" in the Cathedral of St. Paul. Four Welcome Christmas 2018 concerts – in Apple Valley, Roseville and Minneapolis – will include a world premiere by hot young composer Nico Muhly and a selection of Christmas premieres from the past 49 years.
The annual Witness concert will take place Feb. 24, 2019 at Orchestra Hall. Witness: Yet They Persist will honor African and African-American women, and guests will include Minneapolis Council Member Andrea Jenkins, Representative Ilhan Omar and former Minneapolis Mayor Sharon Sayles Belton. The Spelman College Glee Club, from Atlanta's historically black liberal arts college for women, will be there. March brings five performances of Leonard Bernstein's "Candide" in a theatrical concert version produced with Theater Latté Da at the Cowles, a first for both organizations. VocalEssence is calling it "opera for the people."
On April 27 at the Palace, VocalEssence will perform the Midwest premiere of The Times They Are A-Changing': The Words and Music of Bob Dylan, commissioned in honor of Dylan's 2016 Nobel Prize in Literature and arranged by composer Steve Hackman.
A new Family Series will offer free tickets for ages 17 and under. The concerts include Family Series: Identity on Nov. 7, with the VocalEssence Singers of This Age (VE's new youth choir) and Vintage Voices Choir plus the Cameroon Choir, Mila Vocal Ensemble and Threads Dance Project. The annual Star of Wonder concerts will be reimagined and held in the reception hall at Mia. On Feb. 2 at the American Swedish Institute, the Singers of This Age will lead a movie sing-along to Disney's "Frozen." Author Nancy Carlson will be the special guest at Tales & Tunes 2019, a program of musical storytelling and activities for kids. Three Cantare! programs in May will celebrate Mexico in metro area schools.
Three Come Together in Song events are community sings. Aug. 31 will bring "The Wizard of Oz" Movie Sing-Along to Lake Harriet Bandshell for the grand finale of summer's Music & Movies in the Park. The Together We Sing Festival 2019 will take place at the History Center on Jan. 19, 2019. And sometime during the coming season – date, time and location TBA – VocalEssence and the Avant Garde will hold a Soul Sing.