VocalEssence serves up fresh Christmas music by Minnesota composers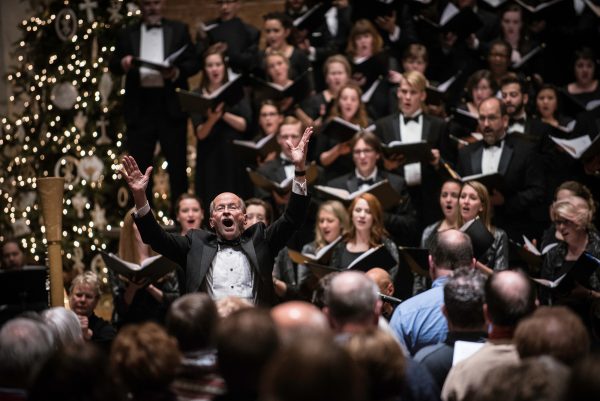 DECEMBER 5, 2017 — 11:12 AM
Musically speaking, Christmas can be an excuse for endless stuck-in-a-loop recycling. Concerts are packed with carols we've heard hundreds of times before, served up as comfort listening for a frantic holiday season.
I love those old songs, too. And yet "Welcome Christmas," a choral program performed Saturday by VocalEssence, was hugely refreshing.
All but one of the program's 16 pieces were by composers either born or based in the Twin Cities. That type of local focus can be dangerously limiting, but it was richly vindicated in a concert full of artistic quality and imagination.
There were new discoveries from the outset, as the choir entered the sanctuary at Apple Valley's Shepherd of the Valley Lutheran Church to the strains of the Processional from Dominick Argento's opera "The Masque of Angels."
Finger cymbals twinkled like tinsel in the firelight, as 140-plus voices intoned Argento's tintinnabulating rhythms. It was an infectious, heartwarming opener. Why don't we hear this music more often?
The same question could be asked of many other pieces on the program. Libby Larsen's "Ringeltänze," for instance, was a jaunty set of five medieval carol-dances enlivened by a handbell choir of seven ringers.
Randall Davidson's arrangement of "Christ Was Born on Christmas Day" went one step further in fielding instruments including a teacup and spoon, panpipes, two recorders and a kalimba.
In Timothy C. Takach's haunting "Winter Walk," the unusual accompaniment came from the choir's male singers. Their throat singing (a technique amplifying the voice's natural overtones) provided a thrumming underlay of vocalise for the altos and sopranos to glide over.
There were, of course, familiar melodies, as well, often draped in fresh clothing. Abbie Betinis used multilayered harmonies to cast a searching light in her arrangement of Gustav Holst's "In the Bleak Midwinter," to Mary Jo Gothmann's exquisite piano accompaniment.
Even the ubiquitous "Jingle Bells" got a convincing makeover, thanks to Minneapolis composer J. David Moore's hyperactively jolly version. The men of the Ensemble Singers (the smaller of the two VocalEssence choirs on duty) dum'd and jing'd for all they're worth, while the women rattled out the lyrics with the precision of a vintage typewriter.
In a program brimming with interest, the best came in a final clutch of three pieces. Steve Heitzeg's nimble, quick-witted setting of "The Nine Gifts" charmed with its warm-spirited sense of humor; G. Phillip Shoultz's "Rise Up, Shepherd, and Follow" simmered with gospel fervor; and Paul Manz's "E'en So, Lord Jesus, Quickly Come" brought the evening to a soft, prayerful conclusion.
VocalEssence associate conductor Shoultz shared conducting duties with artistic director Philip Brunelle. Both elicited a smoothly blended, generously expressive style of singing throughout the evening.
Three more performances of "Welcome Christmas" are happening this week. Attending one is guaranteed to make holiday spirits brighter.
Terry Blain is a freelance classical music critic for the Star Tribune. Reach him at artsblain@gmail.com.