VocalEssence sounds festive at 50th anniversary concert
by Terry Blain
October 8, 2018: http://www.startribune.com/vocalessence-sounds-festive-at-50th-anniversary-concert/495932081/
Review: A high-energy anniversary concert revisited the ensemble's greatest hits.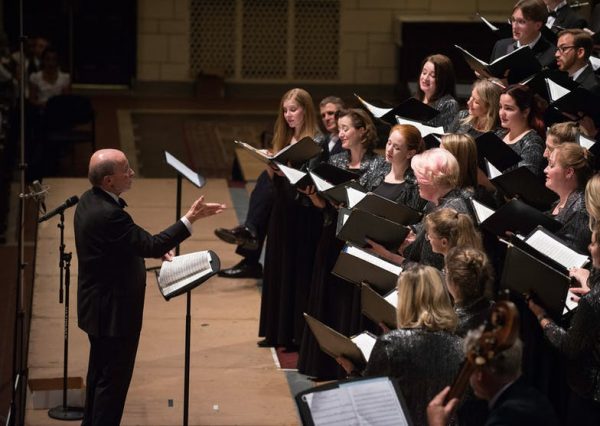 In the beginning, there was Aaron Copland.
Fifty years ago, Philip Brunelle invited the iconic American composer to conduct his newly formed choir at Plymouth Congregational Church in Minneapolis. The great composer accepted. And the rest, as they say, is history.
On Sunday afternoon that history was celebrated at the Ordway Music Theater, as VocalEssence — the name eventually adopted by Brunelle's Plymouth Music Series — mounted a grand 50th anniversary concert.
It began, naturally enough, with Copland's "In the Beginning," a setting of the Genesis story. VocalEssence alumna Clara Osowski, now a prominent solo artist, took the solo line, expertly interweaving with the VocalEssence Ensemble Singers.
Then came another blast from the past. In its first decade, VocalEssence blazed a trail investigating Handel's lesser known oratorios. A magnificent double chorus from "Solomon" was a tingling reminder of those concerts.
VocalEssence's award-winning 1987 recording of Britten's American folk opera "Paul Bunyan" was another landmark moment. Original cast member Pop Wagner brought his guitar and Stetson to the Ordway, summoning years past with a droll rendition of the "Paul Bunyan" ballad.
Tenor Anders Eckmann rode a bicycle down the aisle as the opera's Western Union Boy character, while four VocalEssence members provided a suitably gormless "Quartet of Swedes." Vern Sutton and Jim Ramlet were the log-camp cooks, extolling the advantages of beans and soup as staples of the lumberjack diet.
VocalEssence commissioned many new works through the years, and they were sprinkled across the anniversary concert. There was a pulsating account of Moses Hogan's arrangement of "The Battle of Jericho." Libby Larsen's "Eternal Ruler of the Ceaseless Round" and Stephen Paulus' "The Day Is Done" received immaculately shaped performances, the latter led by former associate conductor Sigrid Johnson.
Singers with a special connection to VocalEssence also got their moment. Soprano Maria Jette sang "The Last Invocation," a riveting unaccompanied piece written for her by Minnesota composer Dominick Argento. Sutton, a tenor, reappeared for Kurt Weill's high-speed patter aria "Tchaikovsky," which he immediately repeated at even greater velocity.
The coup de grâce came when Bradley Greenwald swept on stage in Batman cape and facemask, and tore the house down with a stentorian rendition of "Behold El Capitan" from John Philip Sousa's operetta "El Capitan." The piece is hardly ever mounted nowadays. But as emcee Janice Hardy — another VocalEssence alumna — explained, it was staged by Brunelle in 1975 when he was music director of Minnesota Opera.
In a way, it typified the spirit that Brunelle brings to VocalEssence — bold, innovative and infused with the warm spirit of collegial music-making. His phenomenal contribution to Minnesotan and American music continues, as the illustrious choir he founded enters its second half-century of activity.
Terry Blain is a freelance classical music critic for the Star Tribune. Reach him at artsblain@gmail.com.