VocalEssence, Sweet Honey in the Rock: History has never sounded so sweet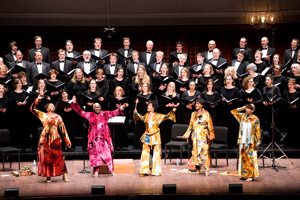 By Rob Hubbard
Pioneer Press
February 15, 2010
History shouldn't be boring. The best writers and teachers of the subject know that you make people care about history by bringing them to feel a kinship to those who experienced it, a sense of the spirit and mood that surrounded the major changes in a culture.
For 20 years, Minneapolis-based choral group VocalEssence has been marking African-American History Month with its "Witness" concerts, bringing the music of African-American composers to the fore and honoring the lives of key historical figures. But never have they brought history to such vivid life as at St. Paul's sold-out Ordway Center Sunday afternoon. For that, they can thank their collaborators, Sweet Honey in the Rock.
The six-woman a cappella vocal group from Washington, D.C., has spent its 37 years surveying a varied compendium of musical styles while keeping social justice issues at the center of their repertoire, particularly the struggle for equality for African-Americans and women. Sunday's concert proved a marvelous showcase for their unique talents, with almost every song bringing exhilaration, chills or both.
The group used its voices to create propulsive rhythms and rich harmonies, combining them with purposeful lyrics and a colorful stage presentation (literally, in the case of their vividly hued outfits). And the songs they performed could doubtless revive the spirits of even the weariest of fighters for peace and justice.
Such struggles were the theme of the concert's second half, separated into songs about the movements for labor, civil rights and peace. The group would perform a few songs on each subject, then conductor Philip Brunelle and the VocalEssence Chorus would deliver one of their own.
The most memorable collection came when Sweet Honey in the Rock followed a medley of civil rights anthems with the moving "Ella's Song" by their founder, Bernice Johnson Reagon, and VocalEssence chimed in with Rosephanye Powell's "I Dream a World." While the musical styles were quite different, they complemented each other well, just as when VocalEssence wove placid harmonies on one gentle chorus of "This Little Light of Mine" before Sweet Honey turned it into the ebullient gospel roof-raiser most listeners have come to know. The crowd stood to clap and sing along, but it's likely that Sweet Honey would have inspired them to stand and cheer at concert's end, regardless.