VocalEssence wishes listeners a contemporary Christmas with annual holiday concert
By Terry Blain | Special to the Star Tribune
December 5, 2018 — 1:50PM: http://www.startribune.com/vocalessence-wishes-listeners-a-contemporary-christmas-with-annual-holiday-concert/501996531/
MUSIC REVIEW: VocalEssence looks to the future with its holiday concert.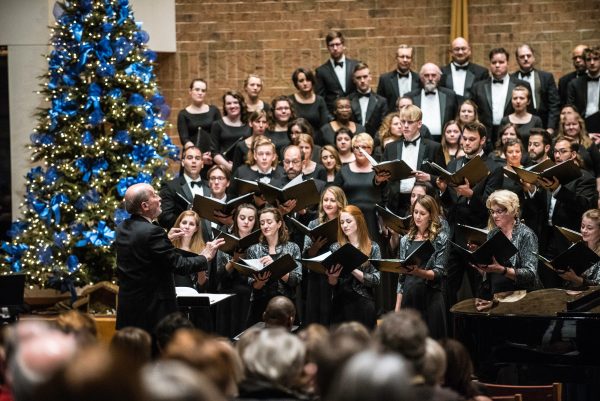 Looking back over half a century, there's an understandable tendency to get all dewy-eyed and sentimental.
But that was hardly the impression left by "Welcome Christmas," the annual VocalEssence holiday program presented Saturday at Shepherd of the Valley Lutheran Church in Apple Valley. Even though Minneapolis-based VocalEssence is currently celebrating its 50th season, and even though "Welcome Christmas" showcased music either commissioned or premiered at the organization's past holiday concerts, the evening felt fresh and forward-looking.
That was partly because the centerpiece was a world premiere by composer Nico Muhly, whose opera "Marnie" recently debuted at New York City's Metropolitan Opera.
Described by Muhly as a Nativity cantata in three parts, "The Faire Starre" lasted 20 minutes in total. At its heart was an extended setting of a medieval poem describing the infant Jesus and his mother, with premonitions of the adult Christ's future. Muhly spun textures of rare translucency around the Chaucerian text, interleaving voices with strings, woodwind, piano and percussion accompaniment.
While nodding respectfully to the soundworlds of Stravinsky's Cantata and "Symphony of Psalms," Muhly's music breathed its own air of luminosity and an aching, otherworldly tenderness. The outer movements set texts by 17th-century metaphysical poets Richard Crashaw and Thomas Traherne, both pondering the mysteries of the Christian incarnation. The closing movement's bubbling textures recalled Philip Glass. But Muhly's mesmerizing sense of wonder was distinctive.
"The Faire Starre" thwarts expectations of Christmas music by refusing to reach trite conclusions and pander to the season's sentimental expectations. Its beauty lay in acknowledging the limitations of human understanding, in music that allows for joy while movingly capturing the fragility of human existence.
VocalEssence's Ensemble Singers gave an assured, sensitive performance of "The Faire Starre," led by artistic director Philip Brunelle. Some solo entries seemed a little tentative, but that will strengthen with repeat performances.
The same team showed its versatility in the exuberant "Navidad Mexicana" ("A Mexican Christmas") by Rodrigo Michelet Cadet Diaz, a composer with VocalEssence's ¡Cantaré! program bringing Mexican music into Minnesota classrooms. How many Christmas songs feature opossums or singing xoloescuincles (that is, Mexican hairless dogs)? "Navidad Mexicana" does. And the Ensemble Singers had fun with the swooping figurations and festive yelps in this playful composition.
Exuberance also marked the VocalEssence Chorus' rousing rendition of Moses Hogan's spiritual "Glory, Glory, Glory to the Newborn King," led with vigor and precision by associate conductor G. Phillip Shoultz.
Another highlight was Stephen Shewan's "The Little Cradle Rocks Tonight," a winner in this year's VocalEssence Christmas Carol Contest. Plangent harmonies dovetailed with Michael Dayton's plaintive oboe solo in this short but memorable setting.
Libby Larsen's "Hot House Carol," Richard Rodney Bennett's "My Dancing Day" and Stephen Paulus' "Sing, Hevin Imperial" were other standouts. They were drawn from VocalEssence Christmas concerts past, but the infectiously communicative performances left no doubt that the choir is in good health and pointed confidently toward the future.