VocalEssence's 50th season features movie singalongs, Bob Dylan tribute and free tickets for kids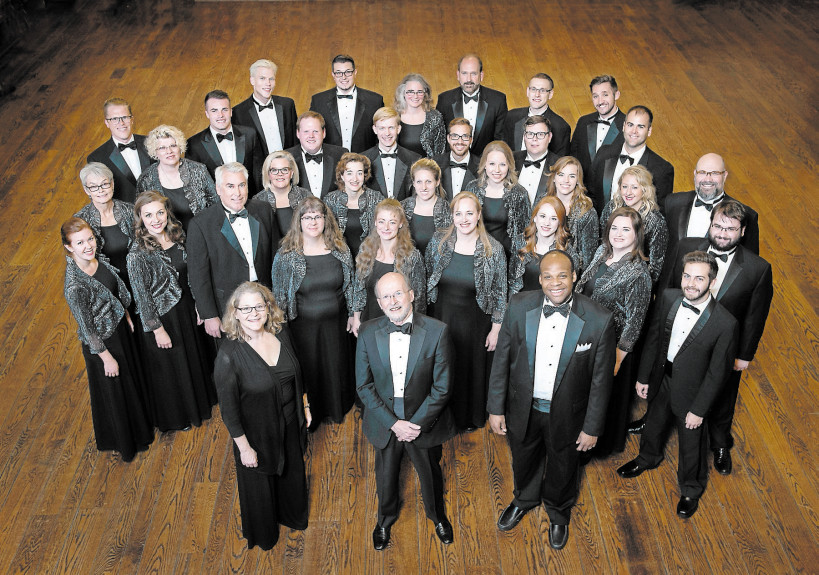 By ROSS RAIHALA | rraihala@pioneerpress.com | Pioneer Press
PUBLISHED: May 17, 2018 at 2:31 pm | UPDATED: May 17, 2018 at 3:50 pm
https://www.twincities.com/2018/05/17/vocalessences-50th-season-features-movie-singalongs-bob-dylan-tribute-and-free-tickets-for-kids/
Two movie singalongs, a new work honoring Minnesota's own Bob Dylan and a world premiere from young star composer Nico Muhly are on tap for VocalEssence's newly announced 50th season.
Season tickets are on sale now. For the first time, the Minneapolis-based choral ensemble is also offering season tickets for its family concerts, with children 17 and younger admitted for free. Single tickets go on sale Aug. 13. For details, call 612-371-5642 or see vocalessence.org.
Here's a look at what's on tap for the season, which associate conductor G. Phillip Shoultz III said "has a feeling of triumph about it, because it's a validation and continuation of our mission."
"The Wizard of Oz" movie singalong; 7:30 p.m. Aug. 31; Lake Harriet Bandshell Park, Mpls.
50th Anniversary Concert; 4 p.m. Oct. 7; Ordway Concert Hall, St. Paul: Featuring selections from ABBA member/composer Benny Andersson's "Kristina" and John Philip Sousa's "El Capitan" with guests including actor/singer Bradley Greenwald and rapper Dessa. A dinner follows at the nearby Landmark Center.
"Music for a Grand Cathedral"; 2 p.m. Oct. 28; Cathedral of St. Paul: The St. Olaf Choir joins VocalEssence for Vaughan Williams' Mass in G minor.
"Identity"; 7 p.m. Nov. 8; Westminster Presbyterian Church, Mpls.: Artists from around the metro join the youth choir VocalEssence Singers of this Age.
"Welcome Christmas 2018"; 7:30 p.m. Dec. 1, Shepherd of the Valley Lutheran Church, Apple Valley; 7:30 p.m. Dec. 7, Roseville Lutheran Church; 4 p.m. Dec. 8-9, Plymouth Congregational Church, Mpls.: The program features the chorus' favorite Christmas songs, a world premiere from screen and stage composer Nico Muhly and two new carols by winners of the 21st annual Welcome Christmas Carol Contest.
"Star of Wonder Reimagined"; 9:30 and 11 a.m. Dec. 8; Minneapolis Institute of Art: A family concert sing-along with holiday-themed crafting.
Together We Sing Festival; 9 a.m. and noon Jan. 19; Minnesota History Center, St. Paul: Songs of protest and progress are planned for Martin Luther King Jr. Day weekend.
"Frozen"movie singalong; 10 a.m. and 3 p.m. Feb. 2; American Swedish Institute, Mpls.
"VocalEssence Witness: Yet They Persist"; 4 p.m. Feb. 24; Orchestra Hall, Mpls.: VocalEssence honors past, present and future trailblazing African and African-American women with help from Atlanta's Spelman College Glee Club.
Theatrical concert of Leonard Bernstein's "Candide"in partnership with Theater Latte Da; March 21-24; the Cowles Center, Mpls.
Tales and Tunes; 9:30 and 11:30 a.m. March 30; Plymouth Congregational Church, Mpls.: A musical storytime featuring local author Nancy Carlson and new songs written by teen moms through the chorus' Lullaby Project.
"The Times They Are A-Changin'"; 8 p.m. April 27; Palace Theatre, St. Paul: The Midwest premiere of a work commissioned in honor of Bob Dylan's 2016 Nobel Prize in Literature.
"Cantare"community concert; 7 p.m. May 21; Ordway Music Theater, St. Paul: A multi-generational, family-friendly fiesta, with school and community choruses teaming up with VocalEssence to celebrate Mexico through song.