Sabathani Vintage Voices Spring 2023 Concert: Journey On, My Friends Concert Program
FEATURING:
Sabathani Vintage Voices
John Jensen, piano
Robert Graham, conductor
BLUE SKIES
Irving Berlin, arr. Mark Hayes
WORDS OF WELCOME!
Phyllis Harris
SHOW US HOW TO LOVE
Mark Miller
JOURNEY TO RECIFE
Bill Evans
John Jensen, piano
NEVER GIVE UP
Rollo Dillworth
POEM: CLEAR VISION
Bill Kos
JOURNEY ON
Derrick Fox
REFLECTION: EVERYDAY JOY
Debra Parker
LOVELY DAY
Bill Withers, arr. Robert T. Gibson
REFLECTION: DREAM A LITTLE DREAM OF LIFE
Jean Herron
FLY AWAY HOME
Pinkzebra
FLYING HOME
Lionel Hampton
John Jensen, piano
POEM: LIGHT by Rabindranath Tagore
Antonette Johnson
CARRY THE LIGHT
Andy Beck
Lisa Davison, soloist; featuring June Pierce, Praise Dancer, Fellowship Missionary Baptist Church
POEM: SINGING
Shirlee Callendar
LET IT SHINE ON ME
Reginal Wright
REFLECTION: UNITY, Psalm 133
Jeanie Hoffman
UNITY
Glorraine Moone & Rev. Freddie Washington, arr. Daniel Cason, II
Jean Herron, soloist
AUDIENCE SING-ALONG: THIS LITTLE LIGHT OF MINE
Traditional Spiritual
The SABATHANI SENIOR CENTER is the hub for many programs geared toward those 50 and better, including wellness care opportunities, informative seminars on current topics or events, entertaining field trips to a theater, casino, or museum, as well as a friendly gathering place where seniors can meet friends and neighbors. Our many activities and services are designed to help seniors maintain independent lifestyles. We also have fun! Seniors meet to play bridge or other games, celebrate many of our annual holidays with special theme luncheons in our Sabathani Café, and share in the activities and services offered by other programs within the Sabathani Community Center building.
June F. Pierce is a licensed Evangelist and Teacher of the Gospel. She has been in the ministry of dance for over 20 years. God's gift has her ministering in front of international and local audiences, across many denominations and organizations, including at Fellowship Missionary Baptist in North Minneapolis. It has been her life's honor to minister on behalf of the Gospel of Jesus Christ. We are delighted to welcome June to share her gifts with us during this performance.
For more than five decades, VocalEssence has provided opportunities for singers from the Twin Cities area to create incredible music together and build connections as part of the vibrant arts community in Minnesota.
VocalEssence is known for introducing audiences to music and artists who are not yet known, often welcoming guest artists, composers, and conductors who are emerging, have unknown works, or represent a variety of cultures. Welcoming all members of the greater community, VocalEssence embodies the motto: Together We Sing.
VOCALESSENCE MISSION
VocalEssence draws upon the power of singing together to nurture community, inspire creativity, affirm the value of all persons, and expand the influence of choral music.
ROBERT GRAHAM
Learning and Engagement Manager
Conductor, Vintage Voices
Robert Graham is the Learning and Engagement Manager at VocalEssence where he serves as the conductor for the VocalEssence Vintage Voices choirs, and oversees the renowned VocalEssence WITNESS School Program. Robert has a Master of Music degree in both vocal performance and choral conducting from Southern Illinois University-Carbondale, and a B.A. in vocal performance from Xavier University of Louisiana. Robert currently serves as a section leader of the adult choir at Westminster Presbyterian Church in Minneapolis, sings second tenor in the VocalEssence Ensemble Singers, and also performs around the Twin Cities as a solo and chamber musician.
JOHN JENSEN
Accompanist, VocalEssence Vintage Voices
John Jensen received his music degrees in Southern California, where he attended Occidental College and University of Southern California.  While there he free-lanced as a studio musician, playing on the Andy Williams show and touring the country with prominent singers through Columbia Artists Management. He moved to Iowa and taught for 15 years at Grinnell College as an artist-in-residence. In 1990, John moved to St. Paul and has played with VocalEssence, the Minnesota Orchestra, and the St. Paul Chamber Orchestra. He plays jazz and classical piano around the area, including performances with the Bloomingtones, a traveling senior choir based in Bloomington, MN. In November 2022, John will appear with the Yale Symphony Orchestra at Yale University to play and record a piano concerto by the late Paul Reale, for Naxos records (to be released in 2023).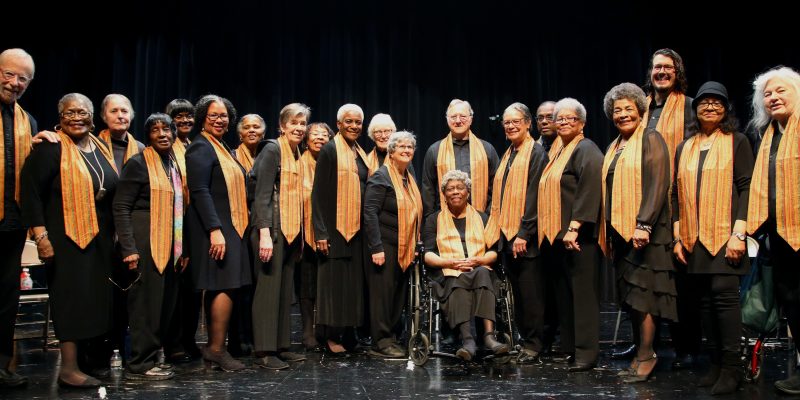 SABATHANI VINTAGE VOICES
VocalEssence Vintage Voices is an exciting choral program that integrates the arts into the everyday lives of older adults. Guided by a desire to create a welcoming atmosphere and remove barriers for participation, these choirs sing to build community, combat loneliness and isolation, and improve physical and emotional wellbeing.
SOPRANO
Lisa Davison
Elaine Evers
Gwen Fraction
Phyllis Harris
Wilmetia Henderson
Jean Herron
Marybeth Hoelzer
Antonette Johnson
Linda Kos
Debra Parker
Carol Richardson
Nancey Riley
ALTO
Dorothy Jean Barnes-Griswold
Sylvia Beamon
Gwen Fraction
Jeanie Hoffman
Ann Jensen
Joanna Lees
Harriet Solomon
TENOR
Shirlee Callender
Grace Jaggers
Rudy Oakerlund
Carole Wilson
BASS
Valton Henderson
Jon Jensen
Bill Kos
VocalEssence Board of Directors and Staff
David Myers
Past-President
Torrie Allen
Vice President
Daniel Fernelius
Secretary
Kristen Hoeschler O'Brien
Treasurer
Mary Ann Aufderheide
Tanya M. Bransford
Philip Brunelle
Cassidy McCrea Burns
Barbara Burwell
Mirella Ceja-Orozco
Margaret Chutich
Dan Dressen
Martha Driessen
Anna K. B. Finstrom
Cassandra Garnett
RJ Heckman
Valton Henderson
Daniel Kantor
Lisa Merklin Lewis
Paul H. McDonough
Rhoda Mhiripiri-Reed
Fred Moore
Richard Neuner
Jim Odland
Joanne Reeck
Don Shelby
Amanda Storm Schuster
Elizabeth Truesdell Smith
Jeff Smith
Kristina Rodel Sorum
Timothy C. Takach
Rabindra Tambyraja
LIFETIME DIRECTORS
Ann Barkelew
Ann Buran
Art Kaemmer
Nikki Lewis
Mike McCarthy*
Dave Mona
Dorene Wernke
HONORARY DIRECTORS
Dominick Argento*
William Bolcom
Dave Brubeck*
Stewart Copeland
Aaron Copland*
Håkan Hagegård
Louise Heffelfinger*
Eskil Hemberg*
Betty Hulings*
Sigrid Johnson*
James Earl Jones
Garrison Keillor
Donald Mitchell*
Helmuth Rilling
John Rutter
Peter Schickele
Dr. André J. Thomas
Eric Whitacre
*In remembrance
ARTISTIC STAFF
Philip Brunelle
Artistic Director and Founder
G. Phillip Shoultz, III
Associate Artistic Director
Robert Graham
Learning and Engagement Manager | Conductor, Vintage Voices
Mary Jo Gothmann
Accompanist
John Jensen
Accompanist, Vintage Voices
ADMINISTRATIVE STAFF
Azure Anderson
Executive Assistant
Mary Ann Aufderheide
Executive Director
Jeff Bina
Director of Finance and Operations
Rhiannon Fiskradatz
Learning and Engagement Manager
Laura Holst
Development and Marketing Associate
Ethan Johnson
Director of Artistic Operations
Amanda Timmer
Director of Marketing and Communications
Elissa Weller
Director of Development