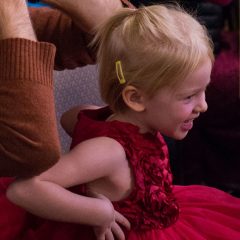 Lucky you! You must have met one of the many VocalEssence fans who wants to share the magic with you. VocalEssence is a singing organization that has a vision to transform lives by singing together, assuring a place for everyone's voice.
Do you know a child who LOVES to sing? We have created a series of concerts and events specifically for them. All ages are welcome at all of the events listed below, and when we say all ages are welcome, we mean it. We welcome all of the squirmy bodies and silly and beautiful sounds children make. Our motto is "Together We Sing," and children are a key part of our chorus.
TICKETS
Adult (18+) $15
Child (0-17) FREE
JOIN US
Click on the Family Series events below to learn more.
Tales & Tunes
Read, sing, and create at this musical story time
Winter Wonder
Clap, wiggle, and sing along to your favorite holiday songs
Moana Movie Sing-Along
Sing out proudly while watching this new Disney classic
VocalEssence ¡Cantaré! Community Concert
Celebrate Mexico through new music sung by students
Voices Calling Pre-Tour Concert
See the future of choir at this inspirational concert
What is in store this season?