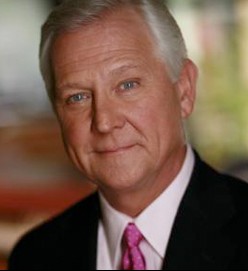 Don Shelby has been involved "one way or another" with VocalEssence for the past 25 years, since he first appeared in a production of "Of Thee I Sing." Now Don is on the board of VocalEssence, and the award-winning former news reporter and anchor has taken on other roles as well. "I've played the role of Paul Bunyan in the VocalEssence production of the operetta by the same name," Don says, and he continues his portrayal of Mark Twain on the River Songs and Tales with Mark Twain: Northern Minnesota Tour.
When asked about his favorite VocalEssence experience, Don is hard pressed to narrow it down to one. "Every experience, as an audience member, of any production by VocalEssence is worthy of indelible memory. The Christmas programs, the WITNESS programs and the special productions have been my favorite experiences."
Musical beginnings: Encouragement and education
Don credits a high school choir teacher with influencing his eventual career choice: "She believed in me, even though she knew I couldn't sing a note of harmony. She was the one who pushed me to be on stage, which—in essence—is what television really is."
His college years were spent at the College Conservatory of Music at the University of Cincinnati. "We opened the world-famous Corbett Center for the Performing Arts on campus with a production of Alexander Borodin's opera Prince Igor. Wonderful artists from the Metropolitan Opera, a huge chorus and wonderful dancers under the direction of the Met's director Frank Corsaro … made a life-long impression on me and kept me involved in musical theater and choral music from then on."
Power through teamwork
"Choral music is not only beautiful, but represents to me something basic in my understanding of how we work best in society—by being a team, reliant on one another—where the whole is greater than the sum of its parts," shares Don, who led his high school basketball team to a county championship, and who has coached his daughters' teams for years.
That VocalEssence "feeds on its own high standards" makes it unique among performing arts organization, Don says. The auditioning process is rigorous, with only the most qualified singers making the cut, he says, and the leadership, direction and training provided by VocalEssence Artistic Director and Founder Philip Brunelle and his staff ensure quality. "There is wonderful discipline in this performance. VocalEssence provides a wonderful program of music, but the wonder of the performance is the result of pinpoint direction and exacting standards."
'A community treasure'
Beyond the technical excellence and exceptional talent at VocalEssence, Don finds "wonderful, transformative events, inspired and elevating performances" from an organization whose "music has the capacity to inform, educate and inspire us in a way no other music or art can universally accomplish."
Citing his involvement with Lost Twin Cities, a Twin Cities Public Television series, Don says, "I support VocalEssence because it is a community treasure. Without the support of the community, treasures like VocalEssence can be lost to us."