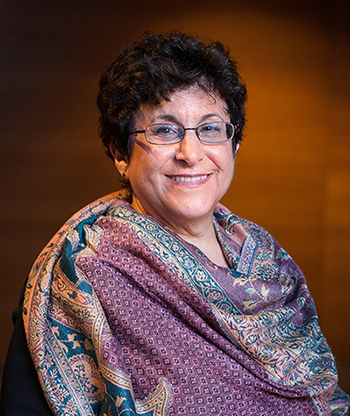 For just about as long she can remember, Judy Drobeck has been singing. It started as it does for many children, "singing rounds and part songs with my family as we rode in the car or did the dishes—as early as 2 or 3 years old," according to Judy. "My older sisters had learned some of Humperdinck's Hansel and Gretel in school, and taught it to me at home."
But Judy, who has been singing with VocalEssence as a chorus member since the 2000-2001 Season, had her "first true choral experience" singing with Dr. Richard Weatherbee, who was the music specialist at her elementary school in Gardena, California. "He included me in his Grade 4-6 Chorus, although I was only in third grade. The first piece I performed with them was Purcell's 'Sound the Trumpet,' and I have been blissfully hooked ever since. California public schools de-emphasized music two or three years later, and Dr. Weatherbee became a math teacher."
Fortunately for Judy, in the eighth grade friends introduced her to Arrowbear Music Camp, and the influence of Fred Ohlendorf, camp director and Long Beach Schools Music Superintendent, "left a second handprint on my heart," said Judy. "I was an annual choral camper there for 4 years and a staff member for seven. I performed my first master works with them—Bruckner, Vaughan Williams, Britten, Orff, Vivaldi, and others."
Lasting Impressions
Judy, who is a VocalEssence board member and works in IT Business Analysis and Program Management at Medtronic, is hard-pressed to narrow her favorite VocalEssence experience down to one. Would it be performing the Peace Movement of Heitzig's Nobel Symphony or Bolcom's Songs of Innocence and of Experience at Orchestra Hall in 2007? Then there was the music of Stephen Paulus and Barber's Adagio at the Marimba 2010 International Festival and Conference.
"Only one? How to choose?" mused Judy, who also cites performing Handel with Nicholas McGegan and the Saint Paul Chamber Orchestra at the Ordway, and Lauridsen's "O Magnum Mysterium" during a Welcome Christmas concert.
But performances are not Judy's only treasured moments; there is "every rehearsal in beautiful Guild Hall—perfect surroundings, exciting repertoire, so many hearts and voices working together," said Judy. Add in Philip Brunelle, VocalEssence artistic director and founder, "wearing lit-up Mickey Mouse gloves to conduct on the Chorus float in the Holidazzle Parade, or requesting 'more cowbell' during a Welcome Christmas dress rehearsal—all I can say is you had to have been there," Judy reminisced.
Choral music is about being connected
Part of choral music's value, said Judy, is that it is "innately human, linking us to times and places near and distant, elevating the gift of language to a higher dimension; we use choral music to honor, serve, remember, worship, and play." Through choral music, everyone has the ability to be part of something much bigger than the individual, she said. "When part of a large or small vocal ensemble, we are connected with other living beings' minds, hearts, and voices."
VocalEssence provides Judy with a "welcome place to sing, and I cannot imagine not singing." She supports the organization to honor her parents and grandparents: "They invested in my music studies when it was difficult to afford, and by singing throughout my life and supporting VocalEssence, I show how much I valued that sacrifice."
She also gives to VocalEssence because her earliest musical opportunities were at school, such as being taken to see the Guild Opera Company productions in Los Angeles with her class. "Someone helped fund the Guild Opera Company for me, and I want to pay it forward by funding VocalEssence WITNESS, ¡Cantaré! and other educational and community programs to bring music into the lives of today's kids," said Judy, who shared this quote from William Byrd: "The exercise of singing is delightful to nature, and good to promote the health of man … Since music is so good a thing, I wish all men would learn to sing."