Exquisite, moving, and remarkable are words that have been used to describe the VocalEssence Dreams of the Fallen concert on Sunday, October 11 at the O'Shaughnessy, performed by the VocalEssence Chorus & Ensemble Singers, the Metropolitan Symphony Orchestra, Jeffrey Biegel and Maria Jette, and featuring the Midwest premiere of Jake Runestad's Dreams of the Fallen. But perhaps the most frequent descriptor was "powerful," as in this Star Tribune review by Michael Anthony: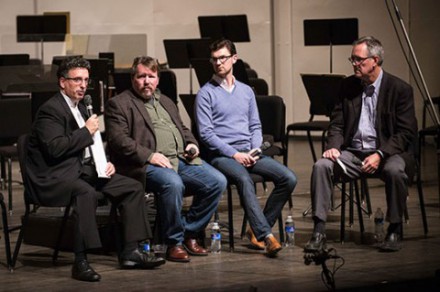 "Philip Brunelle led a powerful performance by this excellent orchestra and his own combined vocal group: the Ensemble Singers and the VocalEssence Chorus. Without trying to, the program made clear how much more visceral and realistic we are today in our depiction of war. Compare a John Wayne movie about World War II with Steven Spielberg's grisly 'Saving Private Ryan.' Similarly, Runestad's sounds of war are brutal compared to the cheerful optimism in Vaughan Williams' 'Toward the   Unknown Region' and Hanson's 'Song of Democracy.' "
A post-concert exchange, though lighter in tone, none the less bears witness to the impact of the text and music presented at Dreams of the Fallen, and to the deep appreciation of one powerful poet for the work of another. Author and Iraq War Veteran Brian Turner, whose poetry provides the text for Dreams of the Fallen, inscribed one of his books for hip-hop artist and songwriter Dessa, who with Jocelyn Hagen composed the reflective 'Controlled Burn." Handed the book, Dessa responded with, "Oh man, are you Brian Turner? Bad-ass, man! Bad-ass!"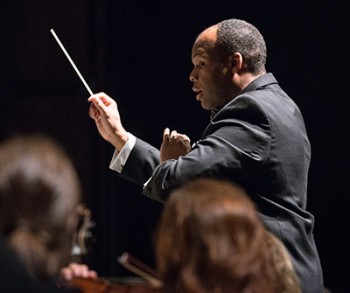 But perhaps the multilayered perspective of VocalEssence Executive Director Mary Ann Aufderheide, who plays English horn with the Metropolitan Symphony Orchestra and performed on the concert, sums it up best:
"This was an incredibly powerful personal experience for me—to play Jake's music—with our singers, especially after spending time with Brian and getting a much better sense of the stories that inspired the music. We are so fortunate to have these opportunities, and Sunday's concert is certainly in my top 10 lifetime performance experiences."
The concert will be available as a VocalEssence Podcast; subscribe to the podcast and you will automatically receive it. You can also see more concert photos in our Facebook album.