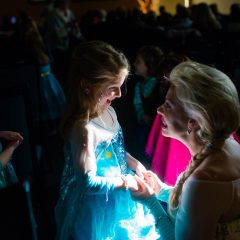 Thank you to the 69 people who took the Frozen Movie Sing-Along Survey. This is our first family movie event, and we appreciate you taking the time to give us feedback. The VocalEssence staff analyzes the results and uses the information to plan for better performances in the future. Below is a summary of the results.
43% of attendees were attending their very first VocalEssence event, and only 10% of respondents attended VocalEssence events more than three times per year.
The top three reasons for attending the event were: "to spend quality time with family members," "to revisit a familiar work or hear music I already know and love," and "to expose others to the artistic experience."
A majority of people felt welcome at the event. On a 1-5 scale for how welcome the audience members felt at the concert, 97% gave a score of 3 or higher, with 80% giving the highest score of a 5.
The majority of children were ages 3 to 5 (78%) and 0 to 2 (39%).
According to the survey responses, the event will be remembered by children and their adults long after the event. This was shown by the percent of children who became fully absorbed during the event (83% giving it a 3 or higher), the percent of children who engaged in creative activities or imaginative play inspired by the event (75%), and the percent of adults who talked about the experience with others after the event (78%).
We had a number of questions about the absence of VocalEssence singers from the event. Please see below for a response.
Comments from Survey Respondents
Photo Credit: Laura Alpizar

"Friendly workers, greeters. Lots of activities and they were totally chill about the activity of the children attending."

"It was nice to have so much flexibility for the kids – they could walk around, dance, sit up front, come in and out, and none of it disrupted the movie."
"All the staff/volunteers spoke directly to my child, had coloring books and crayons, and just overall seemed very excited to be hosting this event for children."
"My daughter wanted to dance … she went to the open space at the back of the room and completely let loose with twirls and leaps and waving arms. It was cool!"
"They loved making the snowflakes, and were all in on the hunt. Stickers are always popular and great fun for them to notch up another sighting of the character posters."
"Nice to have a quality event my toddler can attend and it doesn't matter if she sits, stands, talks, or plays. I can relax because it is so kid friendly."
"I'd love to see more VocalEssence and choral influence in it, even if it's a short sing-along before running the movie…something to bake in live singing as part of our experience. It was a fantastic event, but I didn't feel connected to VocalEssence per se. Those who were attending who were new to VocalEssence likely left without an awareness of the quality of choral music usually delivered by VocalEssence. I feel that was a missed opportunity. LOVE the venue, and the theme of a Swedish movie (that includes Swedish choral music) at the ASI."
No VocalEssence Singers Performed
We apologize for not clearly communicating singers would not be performing in this event. This is our first event of this type, and we are learning and growing from your feedback. We are delighted to share that we have identified ways to meaningfully involve some of our singers for future events of this type. Next season we will be showing the movie Moana at the American Swedish Institute and will be including singers. To learn more, visit: https://www.vocalessence.org/moana-movie-sing-along/
Pictures from Event
To see pictures from the event, please visit our Facebook album.