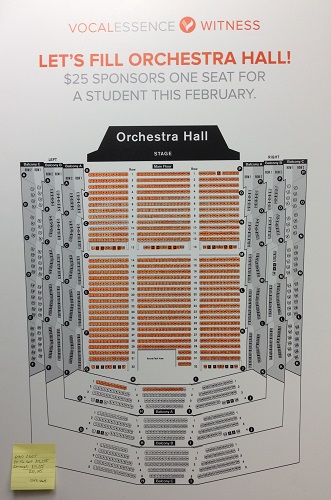 This year we are challenging VocalEssence supporters to help us fill Orchestra Hall with young people in February: 5,418 students are slated to attend the WITNESS Young People's Concerts to see VocalEssence and the Morehouse College Glee Club on stage. But here's the catch …
The cost of the WITNESS program and Young People's Concerts is $28.50 per student, so in order to make this program affordable, schools pay only $3.50 per student.
Here's where you come in. We need to raise $25 per student in order to make this experience possible for all.
Sponsor a seat (or two) and pay it forward. Just $25 will give what one Patrick Henry High School student called "an amazing experience."
Teachers also see the value in these concerts: "This encounter allowed me to sit in my music classroom with seventy 5th grade students and have an honest, real conversation about racism and acceptance—what other field trip can boast that?"
Sponsor a seat in honor of someone (birthday, holiday, or life event) and VocalEssence will send the honoree a personalized card describing the gift.
Help us fill Orchestra Hall this February!