VocalEssence and the American Composers Forum are pleased to announce the two winning composers of their 18th annual Welcome Christmas Carol Contest. This year, the contest sought new carols for SATB Chorus and trumpet in B-flat or C.
Carols composed by Josh Bauder and Laura Caviani, both of Minnesota, were selected from a total of 75 scores received from 21 states. In addition to having their works premiered by VocalEssence at the 2015 Welcome Christmas concerts featuring the VocalEssence Chorus & Ensemble Singers, each composer receives a $1,000 prize. The performances will be recorded for national broadcast in 2016 via American Public Media.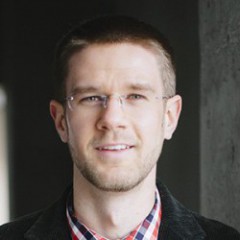 Josh Bauder describes his winning carol, "Sleep Softly, Lullaby," as a lullaby sung by shepherds for the sleeping Christ child, "a center of quiet confidence and serenity where nothing save the object of worship is of concern." He adds that the lullaby is not the shepherds' alone: "It is we, after all, who sing. At Christmastime we too journey to Bethlehem and kneel before the manger. We are the shepherds; like them, poor and simple; like them, offering the gift of music; like them, adoring."
Josh is a Minneapolis-based composer and student. He has a B.A. in music and philosophy from the University of St. Thomas and a M.A. in theology from Central Seminary. He is pursuing a Ph.D in composition from the University of Minnesota and has studied piano under Kathie Faricy, conducting under Angela Broeker and Matthew Mehaffey, and composition under James Callahan and Alex Lubet. He has written for local professional and semi- professional ensembles, including Indande (a flute, oboe, and piano ensemble with whom he partnered to receive the 2010 Jerome Grant for New Music) and Deo Cantamus of Minnesota (a faith-based local choir that premiered his 2014 oratorio Abraham). In addition to writing music and studying, Josh teaches music theory, co-directs the St. Thomas Alumni Choir, and serves at Northwest Bible Church in St. Michael, Minnesota.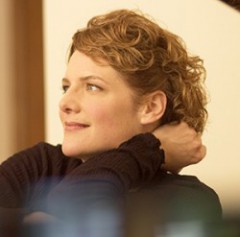 Laura Caviani says her winning carol, "Go Tell It on the Mountain," was a family favorite growing up in Minnesota, and she found the instrumentation for this year's contest "particularly serendipitous." Laura played trumpet in a high school jazz ensemble and sung in choirs directed by Robert Sieving (a Welcome Christmas Carol Contest winner in 2009 and 2011). "You might hear the jazz influence in this arrangement as the meter is 6/8, rather than the traditional 4/4 time," she shares.
Laura is a pianist, recording artist, composer and educator with two decades of experience. With five recordings under her own name, and many more as a "side- man," she has recorded with some of the best jazz musicians in the region. Recently, Laura was one of five finalists at the International Jazz Piano Competition in Jacksonville, Forida. Her release Going There enjoyed a long run on the JazzWeek national radio charts and was hailed as "piano jazz trio of the highest order" by Downbeat contributor Bob Protzman. Other releases have been called "stunningly fresh" (JazzTimes) and "in a word, outstanding" (Star Tribune). She performs and adjudicates for jazz festivals and camps from Alaska to Argentina. Current projects include transforming classical pieces from her childhood into vehicles for improvisation. Laura has degrees from Lawrence University and the University of Michigan at Ann Arbor. She is on the faculty at Carleton College, where she directs the jazz ensemble, coaches chamber groups, and teaches jazz piano.