We asked Artistic Director Philip Brunelle what past concert brings him joy during this topsy turvy time and below is his response.
"Obviously, out of hundreds of concerts it is difficult for me to select one concert—but I would choose the concert on March 9, 1974 when we performed the premiere of Dominick Argento's' cantata, "Jonah and the Whale." Dominick had been my professor at the University of Minnesota—an impressive and demanding man, so it was with some trepidation that I approached him for a commission—the first for VocalEssence!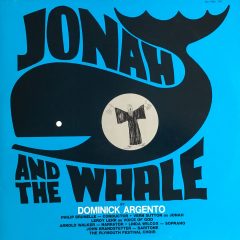 He was a total gentleman,  helping me understand what 'commissioning a composer' meant and what would be involved in doing this. Without going into the multifarious steps involved, let me just say that the result was a TOTAL success!  Of course, the premiere was exciting preparing it—a very challenging work—but what a TRIUMPH!
To this day I fondly remember that concert and the music he composed which still resonates with me—and I realize what that commission meant to VocalEssence—the very first commission…with more than 300 to follow!  The opening words will stay with me always: Patience is a princely thing, though displeasing often!"