Minneapolis and Trillium Woods in Plymouth are busy learning and preparing music to perform at their upcoming spring concerts! This spring Rob added a new part of the program called "singer check-ins", where each singer reserved a 10-minute time slot with Rob to test their vocal range and share any vocal health concerns they may be experiencing.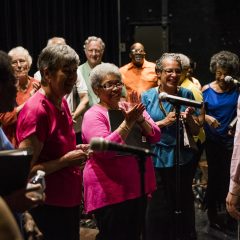 This May, the Sabathani Vintage Voices will present a variety of works, including choral arrangements of spirituals and contemporary gospel pieces, and the Trillium Woods Chorale program will include arrangements of folk songs and songs from musical theater. Both groups will display their best scat singing skills in a lively arrangement of Richard Rodgers' doo-wop hit, "Blue Moon"!
Trailblazing Cheerleaders break the color barrier!
The Spokesman Recorder recently featured a story celebrating two of our altos from the Sabathani Vintage Voices, Harriet Solomon and Gwen Fraction, who in 1950 and 1951 became Minnesota's first African American cheerleaders. Harriet's daughter, Dana Purdue Williams, took inspiration from her mother and her mother's best friend, Gwen, and went on to become the first African American cheerleader at the University of Minnesota. We are so fortunate to have these amazing trailblazing women still with us—living history!
Spring Concerts
Sabathani Vintage Voices, Thursday, May 23, 2019, 6:00pm, Sabathani Community Center, reception to follow
Trillium Woods Chorale, Tuesday, May 7, 2019, 3:00pm, Trillium Woods, reception to follow