VocalEssence Associate Conductor G. Phillip Shoultz, III and a quartet of Ensemble Singers traveled to Wisconsin this week for a two-day choral music festival that cast Phillip as guest conductor of the mass choir of three high schools, while also working with soloists and leading teacher workshops. Ensemble Singers Joseph Ellickson, Robert Graham, Judith McClain Melander and Carolyn Mitchell Steele presented clinics for students, led sectional rehearsals and sang in the final performance, which won a glowing review.
While the video above, produced by the Fox Cities Performing Arts Center, shares the experience and the impact of the festival on participants, Phillip offers his own takeaway: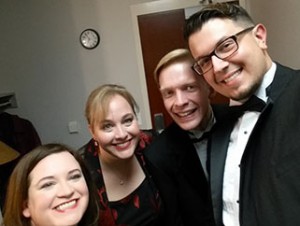 "My experience at the Fox Cities Choral Music Festival in Appleton was fantastic! Fabulous teachers, engaged and talented students, phenomenal facilities and organizational staffing met with an amazing quartet of performer/educators from the VocalEssence Ensemble Singers to create community and share beauty."
Robert, who is also education manager and music librarian at VocalEssence, shared that he had "an amazing day workshopping with students from three spectacular high school choirs (Oshkosh, Appleton and Waupaca)."
This excerpt from the review by Warren Gerds gives a us a peek at the impact:
From the Minneapolis-St. Paul area came director G. Phillip Shoultz III (the hey, wow personality) and the professional VocalEssence quartet to prepare the young singers and perform in the concert.
Shoultz told the audience in the evening that it was his first time in the area. Sooooo, a man the students do not know comes in to tell them what to do to achieve something together. He, in turn, is working with 157 strangers, and they have to believe in him. Chemistry has to take place. Anybody who caught the concert would say the chemistry worked. 
… The choir's first song is sung in Latin. The audience hears the riches of Mozart's music. Afterward, Shoultz takes the time to translate the text – more than reciting; by adding body and vocal English that say that these words come from the soul. Meaning pours from him.
… The choir's third song is in another language, Zulu, and Shoultz explains that the words are "a message of peace, a message of hope." Here, the Shoultz presence is in full blossom as personage not often experienced on life's journey. His prime statement: "We can find ways to build unity in this community and the rest of the world."
It is amazing sometimes what one personality can do.