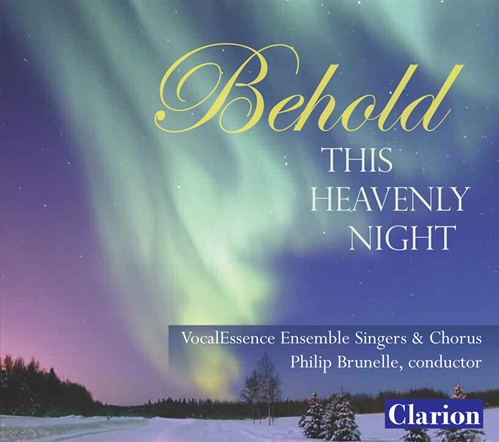 VocalEssence Chorus & Ensemble Singers
Philip Brunelle, conductor
In 1998, VocalEssence and the American Composers Forum joined forces to offer an annual contest encouraging the composition of new carols. Over the years hundreds of worthy carols have been submitted. "Behold This Heavenly Night" presents the world premiere of some of these contest-winning carols alongside outstanding arrangements of more familiar melodies. Also included is the U.S. premiere of John Rutter's new "Carol of the Magi" and a unique arrangement of "Rudolph, the Red-Nosed Reindeer" translated into Latin by Philip Brunelle and his son Christopher.
A warm, lyrical, uncomplicated seasonal anthology from a very good choir in the Twin Cities. Many of the songs are unfamiliar, but most are lovely and worth getting to know…

I am especially taken with Paul Lohman's gentle, sweet 'What Child', Matthew Brown's aptly titled 'Sweet was the Song', and Daniel Kantor's 'Night of Silence', which superimposes an attractive new melody atop Franz Gruber's perennial favorite. As far as I am concerned, Alan Higbee's hushed and innocent 'Bleak Midwinter' dwarfs the better known tune, which has never been one of my favorites. Malcolm Williamson's arrangement of 'Ding Dong! Merrily on High' and J. David Moore's feisty take on 'Jingle Bells' supply the fun. The rest of the way (save for a silly 'Rudolf the Red-Nosed Reindeer' delivered in Latin), we get a hushed, deeply felt exposition of the heart and soul of Christmas.

— American Record Guide
1
Ding Dong! Merrily on High

(arr. Malcolm Williamson)

2
What Child

(Paul W Lohman)

3
The Piping Carol*

(James Sclater)

4
Un Nacimento (A Nativity Scene)*

(Diego Luzuriaga)

5
A Mother's Carol*

(Scott Ethier)

6
I Wonder as I Wander

(John Jacob Niles, arr. Martin Neary)

7
Sweet Was the Song*

(Matthew Brown)

8
Night of Silence

(Daniel Kantor, arr. John Ferguson)

9
See Amid the Winter Snow*

(Robert Sieving)

10
In the Bleak Midwinter*

(Alan J Higbee)

11
The Shepherd and the King*

(Brian Holmes)

12
Carol of the Magi

(John Rutter)

13
Calm on the Listening Ear*

(John Christian Rommereim)

14
The Darkest Midnight in December*

(Stephen Main)

15
Jingle Bells

(James Lord Pierpont, arr. J David Moore)

16
Welcome the King*

(Michael Glasgow)

17
The Virgin's Cradle Hymn*

(Richard E Voorhaar)

18
Behold the Dark and Bitter Night*

(Thomas Fielding)

19
It Fell Upon the High Midnight*

(Paul Gibson)

20
Rudolphus Rubrinasus*

(Johnny Marks, arr Philip Brunelle)

* World premiere recording